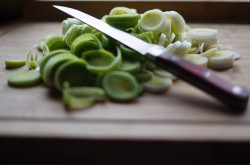 Three years ago, Minnesota author and former Food Network chef Amy Thielen held a launch party for her cookbook, 'The New Midwestern Table: 200 Heartland Recipes,' at Fargo's Zandbroz Variety. This book was illustrated by North Dakota artist Amber Fletschock and earned the praise of celebrity chefs Andrew Zimmern and Lidia Bastianich.
Next Thursday, Zandbroz will once again host Thielen for a launch party for her new memoir, Give a Girl a Knife, which chronicles her journey from rural Minnesota to the elite culinary world of New York, where she worked with famed chefs David Bouley, Daniel Boulud, and Jean-Georges Vongerichten.
Back in 2008, Thielen moved back to Park Rapids, Minnesota, where she now lives with her family and works as a contributing editor for Saveur magazine and a public speaker for radio and television. As part of her research for The New Midwestern Table, she visited home cooks, restaurants, and food producers all around the Midwest, gaining knowledge of its food history as well as relatively new regional recipes.
Her Food Network show, Heartland Table, aired from September 2013 to April 2014. One episode took place in Fargo and honored its diverse population. Thielen made pönnukökur (Icelandic pancakes) to celebrate the town's first generation of immigrants, and later served spit-cooked lamb shoulder with African and South Asian spices.
Give a Girl a Knife explores how food brings people together, its role in family and regional history, and how it binds memories to time and place; hence why Thielen left fame and fine dining behind for foods that taste like home, like smoked sausage and homemade jelly.
The newspaper AM New York published a review saying, "Fans of Anthony Bourdain's Kitchen Confidential and Gabrielle Hamilton's Blood, Bones and Butter will enjoy this chef's memoir of learning to cook in Minnesota and dicing and deep-frying her way through the kitchens of some of New York's most esteemed chefs."
Vivian Howard, author of Deep Run Roots, has said, "I've read my fair share of chef memoirs… Amy's story is different. It's about more than her wacky path through some of New York's best kitchens; it's about Amy's innate need to cook… Writers write. Chefs cook. Amy is the rare example of someone who does both like a boss!"
Back in January, Entertainment Weekly provided a sneak peek at Thielen's memoir, with an excerpt of its prologue. The excerpt is still available on their website at ew.com.
'Give a Girl a Knife' is available both in print and as an ebook. Copies can be found at Zandbroz.
IF YOU GO
'Give a Girl a Knife' launch party
Thursday, May 25, 6:30pm
Zandbroz Variety, 420 Broadway N, Fargo
701-239-4729