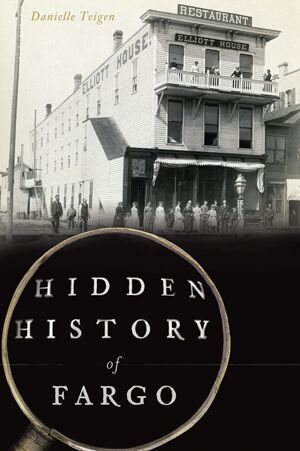 On Tuesday the 27th, local author and journalist Danielle Teigen will give a presentation at Fargo Public Library on her book, "Hidden History of Fargo," published by The History Press last August. This will be free and open to the public, with copies of the book available for purchase.
"Hidden History" focuses on influential figures in Fargo's history, ranging from farmers, ranchers, and business tycoons. This includes the founders of the Forum, the first men to cross the Red River, and the wealthy merchant who eventually earned enough to buy Theodore Roosevelt's ranch in North Dakota.
There are also chapters about Fargo's first doctor, Edward Darrow, who became Surgeon General under Governor Burke, and later the first Superintendent of Health on Dakota Territory; the first pharmacist, Matilda Roberts, also the mother of the first white baby born within Fargo city limits; the first sheriff, George Egbert, who later served four terms as Fargo's first mayor; and Gordon Keeney, a lawyer from Michigan who founded Fargo's first post office.
Fargo residents may be fascinated to learn about William Fargo and Henry Wells, who founded Wells Fargo Bank; industrialist George Cass, who inspired the county name; or even Samuel Roberts (Matilda's cousin by marriage), who owned a law firm on what is now called Roberts Street.
The vintage photos featured in this book have been provided by the Forum, the Institute for Regional Studies at NDSU, and by the author herself.
A review in The Forum described "Hidden History" as "meticulously researched and reader-friendly," which is "no small accomplishment in a field of writing that is distinguished by ponderous academic tomes." The review also praised the way Teigen "brings to life the characters, places and incidents in the city's history that sometimes have been obscured by lore, legend and myth."
Teigen, a South Dakota native and NDSU alum, is currently the features editor for Forum Communications in Fargo. She has written for the Forum, Bison Illustrated, The Good Life, Lake and Home Magazine, From House to Home, and Wedding Vow.
Other books in the Hidden History series includes "Hidden History of Transportation in Los Angeles," "Lost Towns of North Georgia," "New Jersey Legacies," and "Heroes, Scoundrels and Angels: Fairview Cemetery of Gainesville, Texas."
The History Press, a subset of Arcadia Publishing, has released other series such as American Chronicles, American Palate, Haunted America, and True Crime.
Alicia Underlee Nelson, another local author, has written "North Dakota Beer: A Heady History," which is part of the American Palate series.
NDSU professors David Danbom and Claire Strom wrote "Fargo, North Dakota: 1870-1940," as part of the American Images series.
"Red River Floods," another book in the American Images series, was written by retired MSUM professor Terry Shoptaugh.
IF YOU GO
Danielle Teigen: "Hidden History of Fargo"
Tuesday, March 27, 7-8pm
Fargo Public Library, 102 3rd St N
Info: Lori West, (701) 476-5977