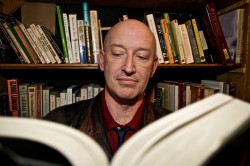 Music and performance poetry will come together next Wednesday at Stoker's in the Basement (The Hotel Donaldson), where poet Kevin Zepper and pianist Terrie Manno will put on a show entitled "Lines & Notes." This collaborative exhibition will be free and open to the public.
This isn't the first time these two local artists have collaborated. Zepper's Reverbnation webpage features audio and video clips of his poetry readings, including one for National Poetry Month last April. It took place at MSUM's Fox Recital Hall and featured Manno playing "Wichita Sutra Vortex" by Philip Glass while Zepper recited his poems.
Zepper, an English professor at MSUM, has authored four poetry books and volunteers with the Poets Across Minnesota Initiative, which sponsors regional poetry readings throughout the Northern Lights Library Network. He was recently awarded a residency at the Starry Nights Artists Retreat in New Mexico, a program for writers, filmmakers and visual artists to work and collaborate.
The poems he will perform at the HoDo on Wednesday have been composed using the cut-up method: a method in which poets assemble random words and phrases from newspaper clippings and other media.
Terrie Manno, a California native, has taught piano at MSUM for over 25 years, and has performed in Italy, Germany, Switzerland, Norway, Hungary and Iceland. As part of her volunteer project, she also performs at local retirement communities.
Last year Manno won the Lifetime Achievement Award at the YWCA's Women of the Year Banquet. Her victory was influenced both by her career and her volunteer work with Kurdish and Somali women of Fargo-Moorhead.
At the time, she was quoted by The Advocate, saying, "I did not expect to be nominated, and I certainly did not expect to win the award. I am humbled and deeply honored to have been chosen … As I look back over my many years of teaching at MSUM, I can say without a doubt that the best part of this job is watching our students blossom as they develop their passion for music."
IF YOU GO
Lines and Notes Piano and Poetry
Wed, Dec. 3, 7 p.m.
Stokers (HoDo basement), 101 Broadway, Fargo
FREE