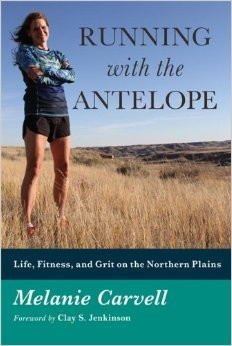 On Saturday, August 23, starting at 1 p.m., accomplished triathlete Melanie Carvell will be hosting a book signing at Zandbroz Variety for her memoir/self-help book, "Running with the Antelope: Life, Fitness, and Grit on the Northern Plains."
This book chronicles her humble upbringing in the small town of Mott in southwestern North Dakota during the 1970s. Now a six-time All American, Carvell credits her athletic endurance to the challenging weather of the Great Plains area. Her motivational philosophy states, "If I can do these things, given the modesty of my upbringing and the harshness of the Dakota climate, so can you."
Carvell wrote much of the book while recovering from back surgery, as she was uncertain at the time whether she could ever compete again. "I thought it would be great to get as much written down about my experiences as I could … because I didn't know if I'd have any more like that."
Currently Carvell works as a motivational speaker, fitness ambassador, physical therapist and Director of the Sanford Women's Health Center in Bismarck. Among her many accomplishments, she has trained with the U.S. Olympic national cycling team and has represented the U.S.A. Triathlon on eight World Championship teams. In the past she has been named North Dakota's Sportscasters/Sportswriters Athlete of the Year and the North Dakota Prairie Rose State Games Athlete of the Year.
"Often people ask how I do what I do, and I think the answer is Mott, growing up in Mott," Carvell said in a 2013 interview with Inspired Woman Magazine. "There are pros and cons to growing up in a small town, but I really do think they develop people who know what work is, how to get things done without a whole lot of resources, and how to become a leader."
While in Fargo-Moorhead, she will take part in the Go Far Woman Run race taking place at the Scheels Arena that morning starting at 7 a.m. There will be a 5K run/walk, a 10K run/walk, a half-marathon and a relay race.
Go Far Woman Run is the first women-only race in Fargo. Its purpose is to raise money to benefit the Essentia Health's Neonatal Intensive Care Unit (NICU) unit in honor of the late Dr. Renee Schwandt, who worked as an OB/GYN from 2000 to 2003. Before her death at the age of 38, she served on mission trips to Haiti and Jamaica.