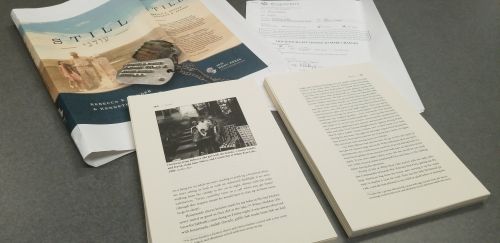 Fargo-Moorhead has a wealth of local publishing houses planning new literary releases within the next few months. All corresponding readings and book signings will be free and open to the public, complete with refreshments, hors d'oeuvres, and even live music.
Tonight, North Dakota State University Press is holding their 4th Annual Press Party at the Harry D. McGovern Alumni Center at 7:00 p.m. Featured authors will be Dawn Quigley, author of "Apple in the Middle;" Timothy Murphy, author of "Hunter's Log: Volumes II & III;" Thomas D. Isern, author of "Pacing Dakota;" David W. Mills, author of "Operation Snowbound: Life behind the Blizzards of 1949;" Rebecca E. Bender and Kenneth M. Bender, authors of "Still;" and Bonnie Larson Staiger, author of "Destiny Manifested."
Publisher Suzzanne Kelley has said, "The books that I know will sell the best are the ones where the authors take on an active role… People really want to meet the authors and talk about big ideas, so that willingness to take on face-to-face encounters are the best predictors of a book's success."
Meanwhile, New Rivers Press—the publishing house of Minnesota State University Moorhead (MSUM)—has readings coming up for two recently-published books of essays: "Excavating Memory," by Elizabeth Mosier and "throughsmoke" by Jehanne Dubrow.
On Thursday, March 21st, the first reading for these authors will take place on the Library Porch on MSUM's campus at 6:00 PM. The following Friday the 22nd, both authors will be at Zandbroz Variety in downtown Fargo for a reading at 6:30 p.m.
This fall, New Rivers Press is also releasing "With Teeth" a collection of short stories by Natanya Ann Pulley, winner of the Minnesota Voices Project; and the poetry collection "I Will Tell This Story to the Sun Until You Remember that You are the Sun" by Erin Slaughter.
Clovis Press—a relatively new publishing house based in Fargo—currently has only a half-dozen part-time employees, but has high hopes for expansion. Their first publication is "One Day at the River Red," a novella by local author Timothy J. Kloberdanz, for which they held a book launch at Zandbroz Variety last fall.
This novella is the first of a series called "Legendary Rivers of the American West." The next book will be entitled "Once Upon the River Platte" and will be released in the spring. The third will focus on the Upper Mississippi River in Minnesota, and will likely be released next year.
IF YOU GO:
NDSU Press 4th Annual Press Party
Thursday, March 7, 7-9 p.m.
NDSU Alumni Center, 1241 University Dr. N Fargo
IF YOU GO:
New Rivers Press reading: Elizabeth Mosier and Jehanne Dubrow.
Thursday, March 21, 6 p.m.
MSUM Library Porch