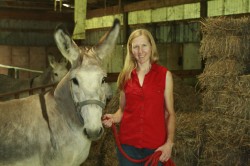 Q&A with Bonnie Jo Campbell
By Sara Dupree
Bonnie Jo Campbell is one of the featured writers at the 2015 University of North Dakota Writers Conference. She is the author of the national bestselling novel "Once Upon a River" and the short fiction collection "American Salvage," a finalist for the National Book Award. She has been awarded a Pushcart Prize and a Guggenheim Fellowship.
HPR: Animals figure prominently in your writing. Are there particular moments of interacting with animals that you draw on in your writing?
Bonnie Jo Campbell: I grew up with barnyard animals and they have always been a part of my life. I rode horses since I was big enough to walk, could milk a cow at age 10 and occasionally have butchered chickens and castrated pigs. When I was a kid I showed dairy cows in 4-H. I had two Jersey milk cows and they were the sweetest creatures imaginable, so gentle and generous. In the dairy barn at the fairgrounds, we cow-girls used to just lie around on our reclining cows.
More recently I had a three-legged dog for 16 years. His name was Rebar and he made life make sense. I've written about lots of animal experiences, including the time our dog Brownie got run over by a train – she survived and that rocks my world still! Currently I have a pair of donkeys that need some training. Such bad behavior in those boys!
HPR: Most of your characters are rural working class people struggling to hold on to the tiny bit of whatever they can claim. What draws you to this type of character and what are some of the challenges of writing about them?
BC: I guess I'm drawn to characters who are struggling, characters for whom failure has some pretty dire consequences. Writing about these characters there is always something at stake – you can imagine my folks going hungry or going to jail if things go badly for them. The challenge is making these characters' lives matter to a readership that is, face it, middle or upper middle class. The temptation is to belittle these characters, to make fun of them so the reader and I can have a good chuckle, but I hope I never do that.
Like many writers, I want to tell the stories that aren't getting told about the kinds of people who slip under the radar. There was one story in "American Salvage" that I worked on for 24 years. It's called "Bringing Belle Home" and it's about a drunk and a drug addict who love each other but are destroying each other. In the early drafts, people would say they didn't care about these people. Well, I worked for more than two decades, but I finally showed that they were worth caring about.
HPR: You were able to achieve my fondest childhood dream – working for the circus. Can you describe how it shaped you as a writer?
BC: I was on summer break and was hitchhiking across the U.S., accompanying a boyfriend, when I came across the circus in Phoenix, Arizona. I really didn't know what I was going to do after my boyfriend boarded a plane to New Zealand, and so when I saw a circus billboard, I figured it was some kind of sign. I hung around until they hired me. Most unskilled women in the circus sell cotton candy, but I was strong and so I sold snow cones. I sold a lot – turns out that a good number of people would prefer to buy snow cones from a wholesome farm girl rather than a tattooed circus dude. The work was exhausting but I was young and energetic. I loved watching the performers practice, loved watching the elephants move, loved living on the train.
HPR: Your path to becoming an award-winning writer is unconventional. In addition to working for the circus, what other experiences have influenced your development as a writer?
BC: Everything I've done has helped me as a writer in the sense that writers need to learn as much as they can in this life. A writer needs to have a lot of experiences, and then at her leisure she can figure out how to make use and meaning out of every experience. However, I've found that I rarely write about my more outrageous adventures. I have a handful of circus stories and one story about bicycling through Transylvania, but mostly I write about the kinds of human interactions that could have taken place in my small, poor, semi-rural hometown just outside of Kalamazoo. I do believe that getting away from my hometown for 10 years and then returning was important. I realized that I should write about my own people – my tribe – that my characters could be the kinds of people I understand the best.
HPR: What was the first moment you remember thinking of yourself as a writer?
BC: I used to work on my high school newspaper and I guess I knew way back then that I wanted to write. However, I am not a competitive person and the writing business seemed too darned competitive so I tried to do everything else: I started a travel company [and] studied philosophy and mathematics because of a high school mathematics teacher. But none of that stuck, so I said to myself, "Let's give this writing thing one more try," and I took a fiction-writing class, was hooked and never looked back.
[Editor's note: Sara Dupree is a Ph.D. candidate in English at UND.]
IF YOU GO
Bonnie Jo Campbell at Writers Conference
Thurs, March 26, 8 p.m.
UND's Memorial Union Ballroom, Grand Forks
undwritersconference.org