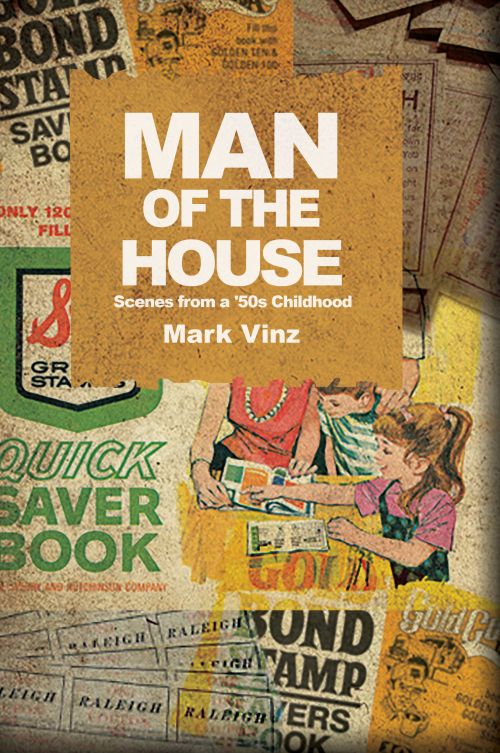 On Sunday, Mark Vinz will be at Zandbroz Variety to read from and sign copies of his latest book of poetry, "Man of the House: Scenes from a '50s Childhood." This autobiographical collection was published by MSUM's New Rivers Press, while the book cover was designed by intern Mandi Wahl, a graphic design major with a minor in art.
Vinz previously read from "Man of the House" at the latest New Rivers Press book launch on November 9th. This took place in the Livingston Lord Library at MSUM, where he taught English for 39 years, before his retirement in 2007.
During that time, Vinz worked as editor of the English department's annual journal, Dacotah Territory. From 1995 to 1998, he was the coordinator of the Master of Fine Arts in Creative Writing program, which he also co-founded.
Vinz has authored several books of poetry, most recently "Long Distance" (2006), "The Work is All" (2011), and "Permanent Record & Other Poems" (2015). A couple of his poems have appeared in the newspaper column "American Life in Poetry," which was managed by former U.S. Poet Laureate Ted Kooser.
Vinz's co-authoring credits include "Inheriting the Land: Contemporary Voices from the Midwest" and "The Party Train: A Collection of North American Prose Poetry." He has also contributed to the local anthologies "North Dakota is Everywhere: An Anthology of Contemporary North Dakota Poets" and "The Talking of Hands: Unpublished Writing by New Rivers Press Authors."
Though born in Rugby, North Dakota, Vinz grew up in Minneapolis and the Kansas City area. He received both his B.A. and M.A. in English from the University of Kansas and his Master's from the University of New Mexico.
MSUM English professor and fellow author Lin Enger considers "Man of the House" "a coming-of-age feast: bad haircuts, growth spurts, the mysteries of sex, and the perils of friendship… Vinz's stories are funny, heartbreakingly honest, and tinged with protestant guilt... they'll make you thank your lucky stars that growing up is something you only have to do once."
Man of the House has been described by poet, musician, and fellow North Dakota native Debra Marquart as the story of "the precocious boy we remember from childhood, the one who sees too much, hears everything, and understands only a fraction…Not knowing what he doesn't know, our narrator trumpets and parrots, reports and announces."
Vinz's many accolades include three Minnesota Book Awards. Man of the House is currently under consideration for 30th Annual Minnesota Book Awards, the finalists for which will be announced in January.
IF YOU GO
Mark Vinz: Reading, Book Signing
Sunday, November 26, noon to 5pm (no time given)
Zandbroz Variety, 420 Broadway N, 701-239-4729