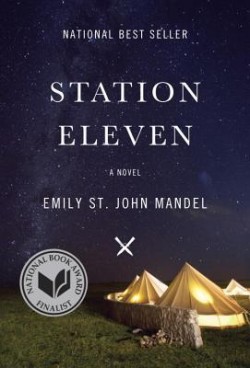 On Monday, Aug. 31, Fargo's local Tea Time Book Club will be meeting to discuss "Station Eleven" by Emily St. John Mandel. The discussion will take place at the Dr. James Carlson Library on 32nd Avenue S, with tea and desserts provided. No registration is necessary.
"Station Eleven" tells the story of Kirsten Raymonde, a theater-goer who witnesses a famed actor dying of a heart attack during his performance in "King Lear." Soon after, a flu pandemic wipes out most of North America, leaving Kirsten to navigate a post-apocalyptic region along with a traveling Shakespearean theatre troupe, who call themselves The Traveling Symphony.
Knopf describes the book as "An audacious, darkly glittering novel about art, fame and ambition set in the eerie days of civilization's collapse, from the author of three highly acclaimed previous novels."
Since its publication, "Station Eleven" has been listed among the Best Books of the Year by The Washington Post, San Francisco Chronicle, Chicago Tribune, Entertainment Weekly, Time, Minnesota Public Radio and The Huffington Post, among others.
Emily St. John Mandel has also authored "Last Night in Montreal," "The Singer's Gun" and "The Lola Quartet," and her short stories have appeared in many anthologies.
YOU SHOULD KNOW:
For more information on this event and upcoming book club titles, call Jenilee at 241-8123.