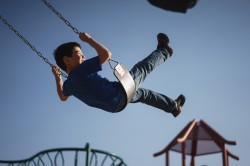 On May 26 of last year cell phone use was directly linked to cancer. Our Government's National Toxicology Program (NTP), part of the National Institute of Health, released a preliminary report stating, "Two types of cancer were caused by heavy cell phone use, glioma brain tumors and heart schwanomas." They were surprised because this study, initiated by the Food and Drug Administration, was to show cell phone use did not cause cancer. The NTP came out with these findings so agencies that protect your health and safety could take appropriate measure to insure public safety.
This is new and important information because you can begin taking protective measures by monitoring all wireless products and their sources that your children are using. This includes (1) wi-fi which is usually on 24/7 at home and you can get radiation from your neighbor's wireless use, (2) smartmeters, electric, gas and water are radiating 24/7, (3) smart appliances radiate 24/7, (4) students have wi-fi in their classroom, radiating 6 hours a day 5 days a week, (5) students also have computers in their classrooms and for homework, radiating 4 to 6 hours per day, (6) gaming, social media, watching TV programs, movies and sporting events on their cellphones, tablets and computers - radiating them another 2 to 6 hours a day, (7) many neighborhoods have cell phone antenna towers radiating 24/7, within different zones: the deadly zone 150 meter (492') radius from the tower, the dark zone 500 meter (1640') radius, and there are some adverse effects as far out as 1000 meters, (8) many children have 4G phones which they usually carry next to their bodies and on night stands, radiating them continuously while it's in their possession, which is contrary to most manufacturer's safe usage guidelines, (9) printers, faxes, baby monitors and headsets, (10) remote controlled: toys, TV's, stereos, keys, lights, fans, switches, alarm systems, and (11) all the other wireless devices you have and are going to buy in the future.
Radiation exposure is accumulative, and when you add up all the exposure your child is getting it gets scary. Microwave radiation penetrates deeper within smaller bodies. The earlier children are exposed to heavy radiation the sooner the clock starts ticking for higher risk of getting cancer and other adverse health conditions from radiation. If you start exposing young children early they could be at high risk before they graduate from high school or college.
Studies by independent scientists have connected wireless radiation to cancer and a multitude of adverse health conditions. In 2011 the World Health Organization listed cell phone radiation a Possible Carcinogen. In 2012 an Italian Supreme court ruling said, "Brain cancer was connected to heavy cell phone use." On February 27, 2016 an Italian study linked cell phone radiation to cancer and now the above study linking cell phone use to cancer.
After the Federal Communications Commission (FCC) received information of the NTP's rodent study, Chairman Tom Wheeler, rolled out the 5G program as a national priority and bared any questions or comment on the NTP study. 5G increases ambient cell tower radiation; 5G operates at higher frequencies that have a short range and 5G can't penetrate solid objects very well so antennas will be on practically every telephone pole. The government is not going to protect you; the telecom industry has too much influence over their protective agencies. You need to take responsibility and create safe environments for your children.
Chairman Wheeler stated, "We wanted to be the first to have 5G," even though South Korea is ahead of them -- which is a good thing. South Korea is one of the world's most technologically advanced countries and they are experiencing repercussions that go with advancement without safety trials and precautions. They have a budding epidemic called "digital dementia," with children more at risk than adults because their brains are still growing. "The situation is worsening", Korean doctor's report, "with the percentage of people between ages 10 and 19, who use their smartphones for more than seven hours a day, leaping from 7% to 18.4% in one year." Doctors have warned that these deficits in brain development are irreversible.
Wireless radiation causes cancer and many adverse health conditions. Protect your children and yourselves by reducing your exposure, not buying wireless products before they're proven safe, reduce use, and eliminate the ones that are not necessary. Please, practice prudence and precaution when something is affecting your children's health.