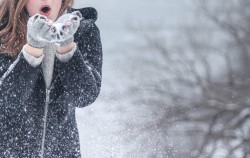 In the city of Fargo we're no strangers to severe winters, and this last week has been especially taxing, with its sub-zero wind chills.
The winter season in northern climes is infamous for giving people the "winter blues," an unscientific term for a range of symptoms ranging from a general tiredness or malaise to full-blown seasonal depression, due to the lack of sun, the bitter cold, and any number of other factors.
Fortunately, there are ways to get on top of the winter blues instead of having them get on top of you. I had the opportunity to speak with Crystal Dawn Nicklay, fourteen-year employee and retail manager of Swanson Health Products, as well as an experienced herbalist, someone with experience in studying and using plants to make salves, and tinctures.
She has studied and taught herself about plants and herbs for fourteen years from a number of sources and her own interactions with customers. On top of her knowledge of the applications of these plants and herbs, she grows and forages for many of the materials she uses.
Nicklay was able to offer knowledge of herbal supplements that can potentially be helpful during the winter season, as well as common sense changes to routine, and tips and tricks that can work wonders.
Before delving into them further, it's important to mention that Nicklay said that she is not a doctor and that nothing she suggested can treat, cure, or prevent any diseases. Even though these may be helpful tips, you should not use them to completely replace the services of a medical professional.
So, first of all, what are some of the biggest mistakes that people make when trying to cope with the harsh cold of wintertime? Unsurprisingly, one of the most common bad habits people fall into is lack of exercise. It only makes sense. It's cold outside and by the time many people get off work it's already dark at this time of year. Many of us would rather just get home and bury ourselves under a blanket.
However, we have to fight that temptation.
According to Nicklay, "Joining a gym and actually going is one of the best things you can do in the winter. You can also set up a really sweet home gym and hold yourself accountable for working out several times a week." That exercise stimulates the release of endorphins in our bodies, which can make you feel better and more energetic. In order to keep up with the habit, she suggested that making a workout schedule and perhaps even finding a workout buddy you can exercise with.
Next, you may not want to hear this, but despite the cold it is a very good idea to get outside for at least a little bit every day. Sunlight encourages the body to process vitamin D and also helps balance out our neurotransmitters, and make sure they are produced correctly.
If that is not an option or you would rather stay indoors, there are lightboxes you can buy that artificially produce ultraviolet radiation similar to the sun's rays that can simulate that effect. She pointed out a particular brand called Verilux can be bought right at Swanson's.
The next big mistake many people make during winter is eating too much processed sugar and flour. Consuming foods containing them can create a short-term energy boost, but you may find yourself feeling worse afterwards, and perhaps even suffering inflammation.
Nicklay uttered the age-old adage, "You are what you eat." Instead, it's best to stick to a diet with plenty of greens, healthy fats and proteins, and plenty of water. "Add good food in and it will push the bad food out."
Despite a good diet, some people may have a vitamin D deficiency. This can cause bodily pain and a feeling of being drained of energy. It can't hurt to get your levels tested if you're feeling those symptoms. You may have to take a vitamin D3 supplement (D2 if you are vegan) to make up for the deficiency. If you do take vitamin D supplements, Nicklay suggests taking vitamin K2 with them. These work together synergistically for superior health benefits.
Nicklay suggests herbal supplements to combat the winter blues. These are often adaptogenic plants such as Ashwagandha, Holy Basil, and Rhodiola. They help modulate your response to physical and mental stress. These are personal favorites of hers.
Another traditional mood-supporting herb that many people have benefited from is St. John's Wort. However, she pointed out, alwaysconsult a doctor or pharmacist before starting supplements. St. John's Wort, for example, can interact with several prescription medications.
"Ask yourself," says Crystal Nicklay, "how you can find balance in your life and make the changes to your lifestyle to accomplish that. It won't happen overnight, but small steps towards taking care of yourself make the whole world better. People often forget to take care of themselves when they are the most important person in their world. If you don't feel good you won't perform your best at your job, and in life, and for the loved ones in your life. Practice being the best you you can be, and you will be happier because of it."