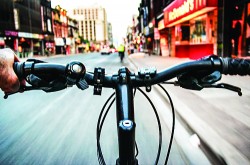 With just a few days left in the merry month of May (aka National Bike Month), let's delve into a few specifics of commuting by bicycle.
I've chatted with many folks that would love to commute by bike, but often they don't know where to start. Starting something new means forming a new habit, and that can be tricky. Trial periods are dotted with success and unforeseen challenges. Sometimes harsh judgement from others (or even yourself) can keep you from having the behavior institutionalized or becoming ingrained in your muscle memory. Failing to commit to a habit you know is good for you can bring forth further frustration or disappointment.
Let's frame the conversation to commute by bike in more positive terms. A recent conversation with Kristen Rheault, local mover and shaker, painted a harmonious picture of a healthy person and bike relationship.
"I consider my bike a friend," Rheault said. "My bike is free of judgement and full of opportunity."
I like it. Let's think about your bike as your friend; I'm sure some already do! Let's explore some riders' habits and simple tips to increase the time you spend with your friend in this new capacity. Whatever the outcome, your bike will always be happy to see you.
Commuting by bike is often a choice made with more intent than a simple need to get from point A to point B.
"The benefits are too many to count," said Dominic Fischer, associate professor of NDSU Landscape Architecture program. "Commuting (by bicycle) saves money, saves room in the garage, gives a convenience of parking, provides free exercise and generally makes life a little better."
Fischer's home and work are in close proximity, so the choice to bike as much as possible seems like a logical one. "I typically bike three to five days per week," he said. You'll even find him keeping pace with his six-year-old while pulling his three-year-old in a bike trailer during the school year, except for the extremely frigid months of January and February.
The Fischers are a stylish crew when riding, but ultimately they make practical dress choices. No cycle-specific clothing, but they do dress for the weather, with options to layer up should the temperatures cool. There is an old saying: "There's no bad weather, just bad clothing." Though that's mostly true, Fischer mentioned if he doesn't like the weather, he can always grab the bus and conveniently put his bike on the racks located on the entire MATBus fleet.
Commuting isn't a race. So take your time and ride at a relaxed pace and you won't arrive a sweaty mess. Rather, step off your bike and get to work without any superhero costume changes. That said, it doesn't hurt to have a change of clothing should you need to freshen up. Requisite commuter hack suggestion: pack some wipes, deodorant, comb and other basic toiletries should you need to tidy up.
Judith Feist, local bike peddler and mechanic at Great Northern Bicycle Co., finds that her favorite bicycle accessory for commuting is a set of panniers (bags that clip on a bike rack).
"They allow me to bring a change of clothes to work, a big lunch or give me leeway when I buy too many groceries," Feist said.
There may be a bit of extra planning that goes into your day when you go by bike, such as learning your average speed, picking a route you feel comfortable navigating and deciding what things you need to carry for the day (as well as how). Finding a bike, bag and plan that works for you will get you to work while also allowing you to smell the lilacs along the way -- you just have to choose whether you want to stop or keep on rolling.