Fifth annual B-B-BRRR Winter Classic Bicycle Race
Who's afraid of a little cold? Not F-M area cyclists brave enough to compete in the B-B-BRRR Winter Classic Bicycle Race.
With the temperatures dropping, roads getting icy and the snow building in drifts, it is finally beginning to resemble a true North Dakota winter here in the Fargo-Moorhead region.
And while some people may loathe the cold weather, many area cyclists just see it as another opportunity to get out on their bicycles. And for those winter warriors looking for a frosty challenge, the good folks at Great Rides Fargo and Great Northern Bicycle Co. are hosting the fifth annual winter bicycle race, the B-B-BRRR, or Border Battle Bike Ride on the Red River Winter Classic.
Cyclists from all over the F-M region and beyond will gather at the Lower Terrace of the Community Gardens, near Oak Grove, in Fargo, where the race is set to begin at 1:30 p.m., Sunday, Jan. 25. The event is open to cyclists of all ages . In the past, riders have ranged from age 12 up to some in their mid-70s, the only restriction being that those under 18 must have parental permission.
The 10K race will consist of several laps on a large loop course, and it will begin with a Le Mans-style mass start, in which riders will run up a hill with their bikes. The path has yet to be exactly charted, but will follow in similar design to past years' races.
It is certain though that the terrain will vary widely, with the course winding over bike paths and train tracks, through snowy prairie fields, wooded river banks and onto the frozen Red itself. The exact route will be determined the week of the event, allowing organizers to take into account the expected snow and ice conditions.
Apart from the bicycle, the sole requirement for gear is a helmet, but racers should, of course, arrive properly bundled up. It is, after all, an outdoor race in January in North Dakota.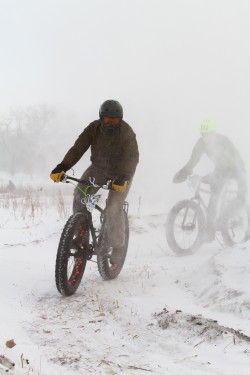 However, according to Jeremy Christianson of Great Northern Bicycle Co., the race is unlikely to get cancelled even despite the harshest of wintry conditions.
"The race will happen," Jeremy said. "Stores could be closed or the mall could be closed due to weather, but the race will go ahead."
Sara Watson Curry, who is helping organize the event through Great Rides Fargo, noted the race is more than just a competition.
"It is billed as both a ride and race, so it's for fun as well as a challenge for racers," she said. "A lot of people come just to get out, as well as for the sense of accomplishment. You see a lot of smiles crusted with icicles."
Afterwards, a post race party, the "B-B-BBQ," will be held at the Great Northern Bicycle Co. shop. This gathering will cap the race with keg beer and cider, as well as brats, beans and chips and awards for the winners will be presented. Door prizes will be given out as well.
Registration has begun and entry is $25 until Jan. 22, after which it will be $35 until 1 p.m. on race day. The entry fee comes with a complimentary event t-shirt and free access to the BBQ afterwards. Party passes, which include access to the food, beer and cider, are $6 and can be purchased by family and friends of racers, as well as by anybody who braved the cold to cheer on the racers.
IF YOU GO:
WHAT: B-B-BRRR (Border Battle Bike Ride on the Red River)
WHEN: 1:30 p.m. Sun. Jan. 25
WHERE: Fargo Community Gardens (Lower Terrace), Fargo
INFO: Registration is $25 before Jan. 22, $35 after, until 1 p.m. on Jan. 25