How do we build a healthier, happier community? Finding an answer to that question is the "high-level" purpose behind Fargo-Moorhead's annual StreetsAlive! events. The other, perhaps simpler purpose? Giving people a good reason to get outside and have fun.
StreetsAlive! will be held three days this summer – June 14, July 12 and August 30 – and its premise is pretty straightforward: close off a three-mile loop of city streets in Fargo-Moorhead from motorized traffic and open it up to the public. That's when things get interesting.
Runners, walkers, cyclists, rollerbladers and skateboarders have all shown up in past years. But all means of non-motorized movement are accepted. Dance down the streets if you feel like it. Hula hoop your way through. Dust off that old Razor scooter, if you can find it buried in your parents' garage. Barrel roll?
The event is designed to coax people to get outside and move -- by any means possible -- within the three mile zone. There aren't any start or finish points – people can jump in, and jump out, anywhere. Throughout the course, there will be many activities and demonstrations.
"The hope is to get people to take to the streets like they may not normally do," event founder Rory Beil said. "Hopefully we can create a culture where movement and activity is inherent in daily life, and to get people used to this idea and normalize it.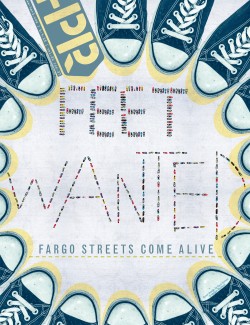 "Last year, we had 14,000 participants, and the feedback was, 'We love this, we want more.' So now we're holding three events this summer."
Sara Watson Curry, an organizer of StreetsAlive! and director of Great Rides Fargo, noted that StreetsAlive! is geared to introducing people to new experiences and, hopefully, new habits.
"It's part of the conversation about how to build a healthier community, and how small changes can lead to this," Watson Curry said. "And then how can people make those small changes?"
"The repetition of dates can get people used to something new and cool and help build habits. And so hopefully we can get StreetsAlive! happening on a weekly basis."
And, as Beil and Watson Curry both stressed, StreetsAlive! is about having fun.
"There's no competitive element," Beil added. "We just want to encourage people to adopt a healthy lifestyle, avoid isolation bubbles and interact in the community."
The High Plains Reader has compiled a guide of this year's StreetsAlive! activities to help you plan your day out. New activities will likely be added closer to the actual event dates.
In addition to the action along the course, there will be two major congregation points, Activity Alley and Participation Parkway.
Activity Alley (near Horace Mann Elementary)
Alyssa Gullekson, coordinator of Activity Alley, described this section as the place "where kids come out to play!"
"It's a kid-focused, active-living theme park," she said. "All programming in this area is coordinated to engage children in fun, new and exciting activities that encourage physical activity."
Here's what children, and adults, can expect out of Activity Alley:
Open gymnastics with American Gold Gymnastics
Archery tag (with soft, harmless arrows of course)
Games and activities provided by Family Wellness program, a partnership between Sanford Health and the YMCA
"Kids in the Kitchen" station with healthy snack preparation and tasting as well as a larger-than-life MyPlate game with The Junior League of Fargo-Moorhead
Soccer in the streets with the Tri-City Storm Soccer Club
Life-size Yummy Land game (think healthy Candy Land)
Cool science experiments with the Scottish Science Guy of the Concordia Science Academy
Moving and grooving music by DJ Jordan Runsvold
Imagination Playground and Play Outside Daily truck provided by The Boys and Girls Club RRV
Puck shoot hosted by the Fargo Force
Participation Parkway (Davy Memorial Park in Moorhead)
"Participation Parkway includes an engaging activity fair, group fitness classes for participants to test out … and is featuring a Bike Rodeo," said Whitney Klindworth, the section's coordinator. "The Bike Rodeo is a new addition and one that we're excited about."
Bike Rodeo (1 to 3 p.m. during the June and July events) will be an obstacle course that teaches bicycle safety skills and includes a bike safety inspection and helmet giveaway.
In the Participation Parkway activity fair, vendors will have fun activities for participants to try. Essentia Health will have its giant inflatable colon for participants to walk through during the July date. (Vendors are still allowed to apply, so this is one area that will be continually added to, the closer we get to the event.)
Group fitness classes will be open for participants to jump in and try out. If you've ever wondered what it would be like to participate in a Zumba or Tabata class, or just what a Zumba or Tabata class actually is, this would be the time to find out.
The Fargo-Moorhead area BMX Riders will have a booth at Participation Parkway and be on the course as well
Besides Activity Alley and Participation Parkway, several noteworthy, stand-alone events can be expected along the course.
A special presentation awarding the F-M metro area the Bronze Medal for Bicycle Friendly Community, a certification from the League of American Bicyclists. The presentation will take place on the NP Avenue Bridge at 3:30 p.m.
Great Rides Bikeshare demonstrations (June)
Food by Smiling Moose Deli, GiGi's Ice Lollies, Luchadores Taqueria and Nibblers.
Kids will be selling reasonably-priced, dietitian-approved food to encourage healthy eating.
Trollwood students will be putting on a mini street performance
Watch for the pole vaulting showcase
IF YOU GO:
StreetsAlive!
Sundays, June 14, July 12 and August 30, from 12-5 p.m.
Map of the route can be found at http://www.dakmed.org/cass-clay-alive/streets-aliv...