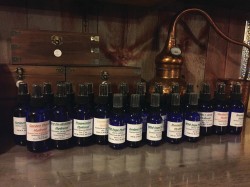 Essential oils. They are all the buzz lately. It seems everyone has heard of them or is purchasing them. Some people know how to use them; others are just interested in the wonder of their complex scents.
Essential oils are as strong as medicine. As they function in nature, essential oils are the immune system of what are considered to be the oldest, most evolved plants.
Another function of essential oils is to attract pollinators, serving a sexual function. But in nature, plants, animals, and humans encounter these volatile compounds in very diffuse states—in the air, in the water, or in cooking herbs.
It is only in recent historical times, since the discovery of distillation, that humans are encountering essential oils in such regular and high doses. As an aromatherapist, I have some concerns about this, as for millennia our bodies have been adapted to processing only very small amounts of these materials, Therefore, I believe essential oils need to be used modestly, with respect to the body and the environment.
There is a more sustainable and safer alternative to essential oils in many cases: hydrosols, otherwise known as flower waters. Hydrosols are the second by-product of the distillation process and contain a small amount of suspended essential oil, some of the herbaceous components of the plant, and water.
As such, they are pre-diluted, offering a small, yet effective amount of essential oil. Yet, these flower waters still smell wonderful and offer the same benefits as their partner essential oils. Whereas essential oils are not always appropriate and should not be used with the very young or the infirm, hydrosols are generally safe for everyone (in most cases).
Whereas essential oils should NEVER be ingested (see NAHA.org for unbiased safety information), hydrosols often can be consumed in salad dressings or beverages without the same safety concerns.
Hydrosols are on the leading edge of trends in aromatherapy. They typically come in a spray bottle, making use as a body spray, linen spray, or room spray extremely convenient. They may also be used in an essential oil diffuser, either on their own or with a few drops of essential oil.
One of the most important uses of hydrosols is with children and infants. Essential oils, despite what might be common practice, are not safe for daily use for children, and there is limited list of essential oils that should be used with this age group.
However, kids can benefit much from the effects of certain essential oils, especially when it comes to tempering moods, calming, and deepening rest. Therefore, I love to recommend hydrosols for this age group for safety reasons as well as ease of use.
One of my favorite recommendations for infants and small children is Roman chamomile hydrosol. This can be used as a linen spray or on the child's clothing or towels to calm moods both for parent and child and prepare the body for sleep.
Explore hydrosols to experience their benefits, and you will be certain to fall in love with this incredible aromatherapy tool.