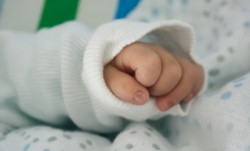 By Catherine Falconnier
A study from the School of Public Health at the University of Minnesota has found a correlation between doula support and lower rates of interventions and C-sections.
What is a doula?
In a nutshell a doula is a woman who is trained in prenatal education, pain management techniques during labor, and postpartum well-being for the whole family.
"Previous studies have shown health benefits of doula support for mothers and their babies and obstetricians recommend that people who are pregnant have doula support," said Katy Kozhimannil, Ph.D., lead author of the study and associate professor in the School of Public Health at the University of Minnesota. The study also found that cesarean delivery rates were 56 percent lower among doula-supported full-term births.
High Plains Reader spoke with Karla Wiegrefe, a local birth doula, about the benefits of doula support.
HPR: Why do you feel that doula support is important?
Karla Wiegrefe: I believe that birth is more than a medical event, it is an emotional, spiritual and, physical event and having a professional present to help the family advocate for themselves is very important.
HPR: In your experience what is the most pivotal thing a doula can do?
KW: I think that there are many things that a doula can do from, physical pain managment to paying attention to the emotions in the room. To me one of the most pivotal things we can do is help the birth partner process their labor and help them walk away with a beautiful memory of their birth experience.
HPR: Who can benefit from having a doula at their birth?
KW: Anyone! We don't just serve birth partners who want a natural birth! We serve people from all walks of life, no matter how they want to give birth. Having a doula there to laugh with you and cry with you and having that person there to find joy with you even if things aren't perfect.
We also spoke with Rae Baker who had a doula for her son's birth.
HPR: Would you hire a doula again?
Rae Baker: Yes,100%! I had two births without a doula and the difference between my births was amazing! I would never have another baby without one. She was such a calming presence for my husband and I.
HPR: How did your doula help you the most?
RB: She helped remind me about positioning changes and comfort measures to help me keep my labor moving.
HPR: How did your birth partner (Husband) feel about having a doula present?
RB: He was all for it. We've had births without one so we thought we had it down. I think he was surprised as to how much we needed her. He has said that the best thing about having her there was the reduction of the anxiety incorporated with having a baby.
If you are interested in learning more about how a doula can help you and your family during pregnancy, labor and postpartum healing, there is a Meet a Doula Event on April 9th at 5:30 at the Make Room in Fargo. There will be a doula present, as well as a massage therapist to touch on the benefits of doula support and prenatal massage.
YOU SHOULD KNOW
Meet a Doula
Sat. April 9, 5:30 p.m.
Make Room Gallery 806 ½ Main Ave.