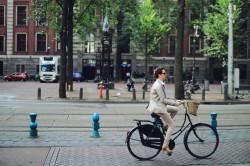 By Sara Watson Curry
Since 1956, National Bike Month has had the simple goal of encouraging more Americans to put the fun between their legs. Or, more formally, the goal is to celebrate the unique power of the bicycle and the many reasons we ride.
There certainly is a diverse attraction to the bicycle. People come to them for fitness, recreation, transportation, environmental concerns, affordability, love of the mechanics and more. Regardless of why you choose to pedal, consider marking the merry month of May with your own bike challenge. The goal can be up to you, maybe you'll pledge to commute once week or to pedal at least a mile everyday.
Maybe you ride a custom whip, trail ride a sweet mountain bike, race a stealthy road bike, flash a franken­bike or are repairing the new-­to-­you bike you picked up during clean up week. They all sound wonderful! Securing a bike that suits your intentions (and pocketbook) is essential. The most beautiful bike is the one you ride. That said, it helps to get the right tool for the job. Make sure your ride is comfortable, enjoyable to ride and fits your intended use. You can always chat it over with your go-­to mechanic. Check out bikefm.org for a listing of our local bike specific retailors and resources.
Our community has steadily increased multimodal transportation facilities. This means spaces for people in cars, people riding buses, people riding bike or people walking. It's great to see bike specific street markings, designated bike routes and more folks pedaling on the street with each passing year. Unfortunately, we are still seeing incorrect use of the bike. There are a lot of misconceptions and maybe blatant disregard for proper riding. So where should you ride? Certainly there are some specific situations, like a bike trail, that cyclists may find they have a facility designated just for their particular mode of movement.
More often than not, bicycles must interact with all other modes of traffic and whether you're pedaling out of town on a fitness ride, running to the store for some groceries, or just taking a spin for the heck of it, the same rules of the road apply. You have to share the road! This means ride predictably with traffic, letting others know your intentions by signaling your turns and following traffic rules.
Make yourself visible, not only with bright clothing, reflectors or lights, but also where you place yourself on the road or in in the bike lane to make sure you're making your presence known. Riding with traffic brings a lot of people outside of their comfort level on a bike. I'd recommend finding a mentor or checking out a group ride to gain experience and confidence. Regardless of your experience always follow your gut. It you don't feel comfortable on your bike somewhere, take a break, hop off your bike if need be, assess where you need to be or what other route options you have.
If you're in a car, you've got a role to play in all this multimodal transportation stuff too. Remember we're all just people trying to move in our own way, and if you're a person in a car, be patient! Give your two­-wheeled friends at least three feet when passing them. Stay alert and give your attention to the road. You're moving around a lot of stuff. Watch out for the little guys.
So cheers to a National Bicycle Month, friends! When you add bikes you get a community that is healthy, vibrant, and fun.
YOU SHOULD KNOW:
bikefm.org
http://bikeleague.org/bikemonth
Casual Friday Ride: May 15th at 6 p.m. (start at Great Northern Bicycle Co)