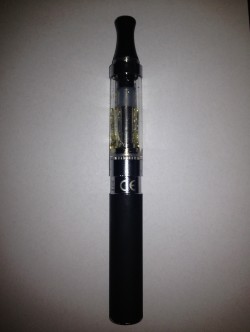 Sales of electronic cigarettes are expected to reach $1.7 billion this year. Many smokers are turning to this odor-free, vapor-releasing instrument as a safer alternative to cigarettes, but many health experts are skeptical.
HPR turned to local e-cig expert Dr. Brody Maack from Family HealthCare to answer a few questions this new product.
HPR: Why are the FDA and health experts so concerned about a product that seems like a much safer alternative to cigarettes?
Dr. Brody Maack: The main concern revolves around the fact that e-cigarettes currently have no manufacturing standards and are unregulated. This means that there have been no well done, long term safety studies in which the products are tested to see if there are any harmful effects.
Also, as far back as 2009, the FDA did laboratory analysis of some e-cigarettes, which showed that they contained carcinogens (cancer-causing chemicals) as well as diethylene glycol (which is found in anti-freeze). The FDA also found that quality control in manufacturing the e-cigarettes is either poor or non-existent in laboratory studies.
It is also unknown as to the risks of inhaling the "vapor" which is let off by the products, and we don't know if there is a risk for second-hand exposure to the vapor. Because e-cigarettes all contain different amounts of their ingredients, including nicotine, in addition to these other safety concerns, we cannot say that they are "safer" than cigarettes.
Another concern is that we are seeing a rapid increase in the use of e-cigarettes in our youth, due to various flavors which are attractive to a younger crowd, and intensive marketing of the products. Also, there is no restriction to e-cigarette sales to minors in North Dakota. Minnesota, however, does prohibit the sale and possession of e-cigarettes to minors.
HPR: What would be your response to this statement made by Craig Youngblood, president of the InLife e-cigarette company: In our product you have nicotine or no nicotine, PEG, and some flavoring. In cigarettes you have nicotine, PEG, and 4,000 chemicals and 43 carcinogens. There are 45 to 50 million people already addicted to nicotine. Should they have the choice to satisfy their addiction by other means? ... I am a proponent of harm reduction. People have rights and choices and should be allowed to make them.
BM: Mr. Youngblood states that his product contains various ingredients (i.e. "nicotine or no nicotine"), also admitting that his product includes "some flavoring." As I stated before, there are no e-cigarette manufacturers that are currently being held to any manufacturing standards or regulations, so the InLife product, like other e-cigarette products, may contain various amounts of its stated ingredients.
Also, the fact that InLife is promoting its product as containing flavoring may be increasing exposure of this product with unknown safety to our youth. This is why the FDA has banned flavoring in cigarettes. The CDC released data in October of this year which showed that 40 percent of middle and high schoolers who smoke, smoke flavored tobacco products.
I agree with Mr. Youngblood when he states that "people have rights and choices and should be allowed to make them," but I believe that people's decisions should therefore be well-informed, and not subject them, or their children, to potential health risk. Also, the issue of "harm reduction" is typically promoted by tobacco product supporters, however it is felt by most of the tobacco cessation expert community that complete abstinence from tobacco is the only way to reduce the number of people who will die in the next 100 years from tobacco related disease, which is expected to be 1 billion!
HPR: Many community citizens are upset that the city of Fargo banned the use of e-cigs in indoor public places. Do you foresee this rule changing and why?
BM: The banning of e-cigarettes in Fargo is actually a statewide law, which went into effect December 6, 2012. I don't see this changing, simply because of concerns we have discussed—lack of manufacturing standards, lack of safety proof, potentially harmful ingredients and concerns for turning our youth on to tobacco products. Considering that e-cigarettes look similar to regular cigarettes, prohibiting their use indoors also eliminates any confusion about what's acceptable under the statewide law.
HPR: In your opinion, what is the best method to quitting smoking?
BM: The best method of quitting smoking has been proven countless times to be a method which includes behavioral counseling along with medications, such as the nicotine patches, gum or lozenges. This method is recommended by the US Public Health Service, and is available in many communities through doctors' offices, pharmacies and through state telephone quitline services, such as ND Quits (1-800-QUIT-NOW) or internet quit services. Many of these programs are free!
HPR: Anything you'd like to add?
BM: As of right now, e-cigarettes are too much of an "unknown" with regards to safety and whether or not they help people to quit smoking, and with concerns for the products being a gateway to youth tobacco use, they simply cannot be recommended for use. There have been no respectable studies showing that e-cigarettes are better, or safer, than any of our seven FDA-approved medications for quitting smoking.
We have a large amount of safety data and data to show that the FDA-approved options work very well to help people quit tobacco. These options include three over-the-counter options (nicotine patches, gum and lozenges), and four prescription products (Chantix, Zyban, nicotine inhaler and nicotine nasal spray). In fact, the nicotine inhaler is a proven, safe option for people who want to quit in a similar way as e-cigarettes, without the unknown risks of "vapor" exposure and other potentially harmful ingredients.
Also, the nicotine inhaler, along with the other FDA-approved options, is legal to use in any indoor space in North Dakota. I personally recommend this option for patients of mine who show interest in e-cigarette products as a safe alternative to e-cigarettes.
[Editor's note: Brody Maack, PharmD, CTTS, is a clinical pharmacist who provides medication management services, including tobacco cessation, at Family HealthCare in Fargo. He also serves as Assistant Professor of Pharmacy Practice at the NDSU College of Pharmacy, Nursing and Allied Sciences, where he teaches the subjects of heart and lung diseases, which includes tobacco related disease, prevention and cessation.]