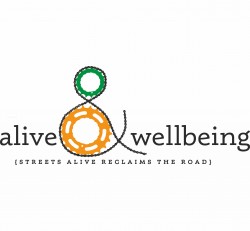 StreetsAlive! is becoming a new downtown summer community-building tradition, with the tagline, "making active living the status quo."
This series of healthy events is set to return to Fargo-Moorhead with a kick-off on the afternoon of July 10th followed by events on August 28 and September 25.
According to Sara Watson Curry, event coordinator, and Director of Operations for Great Rides, this summer's events will feature "three miles of streets through both cities which will be closed to motorized vehicles to encourage walking, running, biking, rollerblading, dancing and other human movement." It also includes physical activity demonstrations and vendor booths. These events encourage a more active lifestyle by closing the streets to vehicles and instead, "opening them to human-powered movement." Sara says last summer's participation was approximately 13,000 people.
StreetsAlive! is a collaborative effort meant to inspire the community at large. Great Rides is the lead group, partnering with many other community organizations. Great Rides is a nonprofit organization focused on building community with bikes. It interacts with people in several ways, including group rides, bike share, StreetsAlive! and pedicabs. Great Rides Bike Share will extend a free day-pass promotion throughout the three events.
Those who come to StreetsAlive! should expect the unusual and exciting, including people riding unicycles and tall bikes. Sara encourages first-timers to participate and showcase their talents, stressing that the event "is uniquely shaped by those attending."
The purpose of StreetsAlive!, according to Sara, is "to celebrate and encourage active and healthy living, to help make the healthy choice the easy choice in our culture. It is also a chance to put your best foot forward in health and see what our community has to offer. Of course, it is also a lot of fun. We love to play! We think play is serious business and it is important for us all to make sure to play every day of our lives."
Alyssa Impola, of Fargo, is an example of a young person enjoying StreetsAlive! Alyssa, at 11 years old, has participated with TNT Gymnastics, doing demonstrations during StreetsAlive!, at the busy area in front of the Fargo Theatre on Broadway. Alyssa stresses that StreetsAlive! is important because "it's a good example of how people can get fit by doing sports and activities," and she enjoys showcasing her sports for others. She plans on participating this summer in ND Elite Cheer. Alyssa adds, "It is fun and it gets the community moving together."
Karen Lee, Moorhead, has participated in StreetsAlive!, at least one event each year, if not more. She has biked with her kids, and walked it with friends, often loading the bicycles in the family van. parked it at the Moorhead Center Mall and biked from Moorhead to Fargo. She loves "the freedom to ride through the streets." She and her two children have relished in the activities along the route, including food such as the freezie pops at the Catholic church and vegetable kabobs on the bridge. Activities they have enjoyed include the climbing wall and pole vaulting. Karen says, "StreetsAlive! provides a safe, unique opportunity to explore Downtown Fargo-Moorhead."
StreetsAlive! inspires people to embrace more physically active lifestyles regardless of current health and physical condition. It also promotes the adoption of biking and walking to get around – for both transportation and health. StreetsAlive! is organized by CassClayAlive!, Great Rides and PartnerSHIP 4 Health and staged by many community partners working together.
Sponsors for this event are: CassClayAlive!, Dakota Medical Foundation, Great Rides, PartnersSHIP4Health, Discovery Benefits, Forum Communications Company, Great Northern Bicycle Co., Sanford Health, Y-94, City of Fargo, Essentia Health, AE2S, Bell State Bank & Trust, Blue Cross Blue Shield of North Dakota, Folkways, High Plains Reader, Kilbourne Group, Moorhead Center Mall, The YMCA of Cass and Clay Counties, and West Acres Shopping Center.
Each event will feature an opportunity for the community to give back, to encourage altruism, and also raise awareness of needs in our community. At the July event , StreetsAlive! is hosting a healthy food drive outside of Josie's Corner Cafe which will also be the host site of the Heart-n-Soul Community Café. Future events will collect school supplies and gently-used sporting goods. Participants are encouraged to bring a non-perishable food item for their healthy food drive.
At points along the route, athletic performances of pole vaulting, skateboarding, tumbling and more will be demonstrated by athletes of all ages. Musical entertainment and other special side events will be situated along the route.
The July 10 kick-off will have the longest pop-up bike lane to date, spanning two states and a bridge. Sara says it is "fun to see things in our community being shaped (in part) by some of the things we get to demo and experiment with at StreetsAlive!"
Sara encourages everyone to "make sure to take the whole loop to take it all in!" Fargo's 11th Avenue North next to Horace Mann Elementary will be Activity Alley with kids games and events such as dancing, hula-hooping, a life-size Yummyland (think candy land), and the Boys and Girls Club's Imagination Playground including giant foam Lincoln logs.
Also at Activity Alley will be live demonstrations by the Scottish Science Guy of the science academy at Concordia College. At Participation Parkway, at Davy Memorial Park next to Usher's in Moorhead, there will be a bike rodeo and helmet giveaway from 12:30-2:30pm. Outdoor Zumba, Tabata, and yoga classes and healthy living exhibitors will also gather there.
And, as always, Fargo's Broadway will be hopping with music DJs, pole vaulting, tumbling, and mountain bike obstacles. A complete event map is on the web site.
Please check the StreetsAlive! web site and social media for any weather-related announcements on the day of the event.
IF YOU GO
StreetsAlive!
July 10, August 28, September 25, 12 – 5 pm
Downtown Fargo and Moorhead. See website for route.
www.fmstreetsalive.org
twitter: @fmstreetsalive