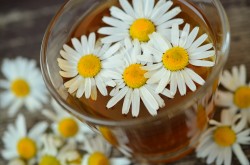 As I interact with clients and friends and family alike, one of the issues that comes up commonly is that of sleep. It seems that in our modern world, getting deep, nourishing sleep has become a challenge for some and a complete rarity for others.
There are many things can be done from a natural standpoint to enhance sleep. One of those is an old traditional method: a cup of chamomile tea. Chamomile is a beautiful white flower that is grown as an herb in many gardens. This flower has the slight scent of pineapple, and when used as an herb in tea form, is anti-inflammatory and slightly sedative. It is delightful mixed with a touch of raw honey, and can be consumed by adults and children.
If you are a person who has difficulty winding down, I recommend a cup of chamomile tea 1 to 2 hours before your desired bedtime. Chamomile flowers can also be added to bathwater with similar effect.
Did you know your late-night screen time may be interfering with your sleep? Recent studies show the blue light from our LED screens in our computers, TV's, and phones mimic the light of the sun to the part of our brain that regulates our natural circadian rhythms, including cycles of waking and sleeping.
The standard advice is to reduce or eliminate screen time 1-2 hours before bed. However, this is not always possible or desirable, in which case, using an orange-light filter on your laptop and phone is an easy way to reduce your exposure to blue light.
Most phones now have a setting for this (on iPhone it is called "Night Shift,") and for your laptop, try downloading the f.LUX application. This program will greatly reduce the blue spectrum coming from your laptop in correspondence with the sunset and turn it back on with the sunrise.
Essential oils can be of great help for sleep issues. Lavender essential oil is the standard, universal medicine for so many things, including sleep problems. For adults, diffusing 3 to 5 drops of lavender essential oil in the bedroom diffuser for an hour right at bedtime can help sleep to come more quickly.
However, if you need stronger help, try bergamot essential oil. While normally a mood-boosting oil, bergamot also works in the other direction when it is time to rest and is commonly recommended for insomnia. This can also be added to your diffuser, either mixed with lavender, or on its own.
Finally, the strongest sedative in all of aromatherapy is called jatamansi. This root is related to the more well-known herb valerian; both of these being used for sleep and mood problems. Jatamansi does not smell great, but it works wonders. One drop in the diffuser, either mixed with these other two essential oils or on its own, can greatly deepen sleep, bring healing dreams, and help you to wake more rested.
If you do not have a diffuser, these essential oils can be added to a spray bottle with purified water and a very small amount of high-proof alcohol as a dispersant. Then, this spray can be applied to yourself and your linens just prior to sleep. You may also choose to inhale these scents deeply for several minutes right from the bottles.
All of these methods of application will have you heading off for more z's and sweet dreams.