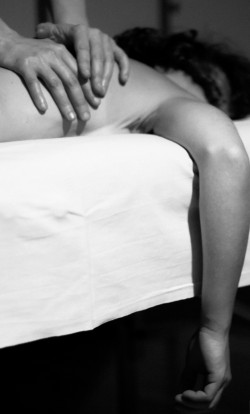 We've all heard that old saying "you are what you eat." In the case withthis story, I wanted to talk about the food for the body we call "massage."
On my last trip to Winnipeg, I was spoiled by having a massage known as hammam.
But first I want to back up and give credit where credit is due. I never heard of this hammam until I met a lady by the name of Beth at a dinner party. She was talking about this specific massage therapy.
I wasn't very interested because I'm not a big massage person. But my ears perked up when she talked about the experience, telling us what happens from the moment you put on the pestemal wrap and Turkish robe to having the Moroccan Turkish Delight and mint tea before the massage in the hammam lounge.
Well, she had me hooked. I too wanted to be fed this bodily experience.
So Lora and I made our appointment without guilt (the cost is not cheap) and there was no disappointment.
From the moment we put on our pestemal wraps, I knew I was entering a new world for Deb.
After waiting in the lounge, we were led to this area with heated tile benches, soft music and a very peaceful-looking Buddha statue. There were more treats like Beth said: Turkish Delight and mint tea they give you to help, which the masseuse said was "preparing and sustaining us during our time in the hammam."
On this day the Turkish Delight was perfectly cubed Jell-O-like substance that had the taste of rosemary, lightly sprinkled with powdered sugar and mint tea that was very refreshing. They also give you a water bottle to stay hydrated through the experience. OK, remember I have never had any experience on this level, so if getting a water bottle is standard, I would have no idea.
Once we went into the spa, gave ourselves the salt scrub and showered, we were led to the large flat marble floors for the massage experience. The only thing I could possibly say that was strange for me was the amount of water they used during the massage. There is a lot of water rinsing off one's body during this process.
When you're all done with the massage therapy, then you go into this beautiful room that is all white with white curtains and white side tables, and lay on these huge white couches. (By the way, these are your own personal two-man couches.) Of course, need I also say they bring you a beautiful, white afghan to wrap up in. Lastly, they ask, "Can I bring you a warm yogurt drink?" followed by "Please lay here as long as you need."
Wow. Thank you, Beth for sharing this information and Lora for having this wonderful food for the body experience with me.
Oh, by the way -- if you have any food issues, the staff will gladly substitute the yogurt drink.
I think I have to do this again. Ten Spa is located on the 10th floor at the Fort Garry Hotel Spa 222 Broadway, Winnipeg, MB R3C 0R3, Canada +1 204-946-6520