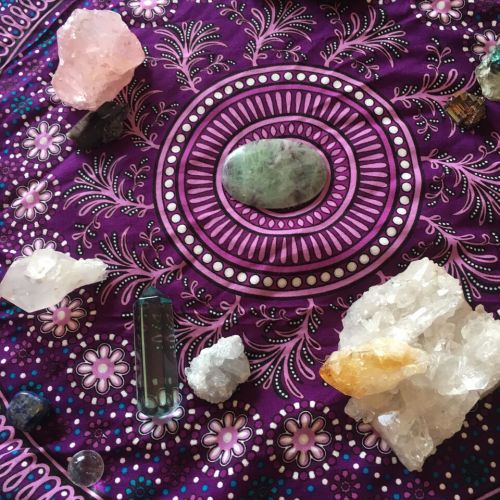 If you were like me when you were a child, you had a rock collection. I never thought in my adult life that I would be starting another one, or for that matter that I would travel back home to my parent's house and go to the basement in search of my old collection, just to see what precious stones lie in the chest that I used to keep them in.
Unfortunately, the search for my childhood collection came up fruitless, but luckily in the creation of my new collection there is a shop that can guide the mind, body, and spirit in the pursuit of a new collection that can be both aesthetically pleasing and soul-rejuvenating.
Crystal Rock Healing is located at 4950 13th Ave S. When you first open the door, the amassed energy of the pieces of earth residing within will stun you. I previously didn't recognize the applicable force that these rocks contain, each having their own set of naturally occurring healing properties and uses in holistic healing. The properties of stones include drawing negative energy out of the body in order to allow the body to heal properly. Tourmaline quartz protects from negative energy and offers grounding and strengthening of the body's energy field.
Crystal Rock Healing was founded in Minneapolis, where Cindy Schmitz sold natural healing products at the farmers' market. Her brand Crystal Rock started with self-care products ranging from essential oil blends to shampoo and deodorant.
Looking back now, the name of her company was a direct manifestation of what was to come. Three years ago, Crystal Rock fulfilled what may seem like destiny proclaimed, by branding and selling crystals and rocks along with her previous offerings.
Bismarck was the first brick and mortar location of Crystal Rock Healing, and less than a year ago the Fargo location was opened with the acquisition of the remaining inventory of the rock shop that once existed in the downtown area. While I was in the shop there was much more inventory coming in, with some rocks that were so beautifully unique that you could believe that they came from a Martian surface, and theoretically if you think of the state of the earth when they were formed, it may have been very alien indeed.
There is also a new location of Crystal Rock coming to the area. Cindy and her husband recently moved to the Pelican Rapids area, purchasing a property that includes a large barn that will facilitate a new shop destined to be a destination.
If that isn't enough good news, she has also purchased the remaining inventory from the bead shop that was previously located in the basement of the Black Building; and the beads will be sold at the Fargo location, offering products to an even more diverse customer base.
Cindy's natural self-care products are fantastic, and they manufacture all of their own products, so you know where it's coming from. She provided me with an essential oil blend sample that is a calming treatment for dogs, that I have now used multiple times when my Labrador is acting particularly neurotic. It really does the trick. Stella becomes more relaxed, and usually lays down at my feet and allows me to do work at home.
I have also tried her tangerine shampoo, and her stress relief conditioner. Both of these products are excellent. I love the smells, and the conditioner is specifically effective. I feel very relaxed after using it in the shower, and it sets an excellent mood for the coming day. I hope to try more products in the coming future.
Cindy started her journey into holistic healing when she contracted Lyme disease and other tick-borne illnesses. These diseases lead to rheumatoid arthritis, and while conventional medicine does offer treatment for these health afflictions, the treatment is heavily on the pharmaceutical front and Cindy wasn't happy with the side effects. Like many others disappointed in Western medicine, she searched for other options.
One of her friends introduced her to essential oils as a treatment option. With the use of essential oil and holistic healing including, but not limited to reiki, she has the symptoms of her illnesses in check without any pharmaceutical medication. She shared with me that she recently had a checkup at her doctor and they were amazed that she wasn't on any medication.
When visiting with Cindy, her mood was jovial and she wasn't obviously suffering from any symptoms. I was very impressed with her dedication to natural healing, and her ability to make a life-changing decision based on how her body felt, and not what her doctor was insisting she swallow. More people should listen to their bodies and pursue the options that allow for the best quality of life, not what lines the pockets of big pharma.
Cindy was amazing to talk to and her staff shares these same qualities. I often find myself spending more time in the shop than intended. It's just such a comfortable environment. I always feel amazing after leaving with a hug from her employee Kate.
The entire shop is full of positive energy. I recommend a visit to this gem of a business inspiring health, holistic change, and love.
YOU SHOULD KNOW
Crystal Rock Healing
4950 13th Ave S, Fargo; 701-532-0364 Mon-Fri 9am-6pm; Sat 9am-3pm