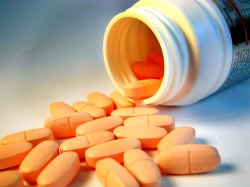 Vitamin D supplementation has taken off in alternative medicine in the last five years. The primary function of Vitamin D is to regulate levels of calcium and phosphorous, which promote bone health, in the body.
What has captivated the public and scientists is the potential role of Vitamin D supplementation in improving immune function and numerous diseases. There are increasing studies associating Vitamin D deficiency to certain cancers, cardiovascular disease, dementia and other chronic disease.
The skin uses UV-B radiation from sunlight in Vitamin D synthesis, making it the "sunshine vitamin." During the summer months, five to 30 minutes of sunlight on the hands, forearms and legs two to three times per week is sufficient.
However, living in a northern latitude such as Fargo, we can't produce Vitamin D from sunlight during the months of November to February. Since Vitamin D is fat-soluble we have some storage in the body, but without adequate dietary intake we are at risk for a deficiency during the winter months.
From a traditional medicine perspective, Vitamin D supplementation is indicated for patients with diseases or states leading to a deficiency. These patients have a clinical Vitamin D deficiency, meaning their levels are low enough to begin showing symptoms, classically soft bones (osteomalacia) or rickets in children.
Vitamin D supplements are also commonly given to prevent or treat osteoporosis. Since natural food sources of Vitamin D are few, the U.S. has adopted the practice of fortifying foods such as dairy and cereals making deficiencies far less common.
The recent trend of promoting Vitamin D supplementation for the generally healthy population with subclinical deficiencies is fascinating. There are lab studies supporting the role Vitamin D has in improving immune function and lowering blood pressure.
It can also affect levels of glucose in the blood making it a promising adjunctive treatment for diabetes.
Here is where the problem arises.
You must recognize the difference between in vitro and in vivo studies. In vitro studies are performed in the lab; imagine pipets, small vials and petri dishes. In vivo studies are done in animals, ideally in humans.
The underlying mechanisms for the extra-skeletal benefits of Vitamin D have been demonstrated in vitro, but strong evidence showing if supplements produce a clinical effect in humans is still lacking.
Does this mean Vitamin D supplements do not have health benefits in humans? Well, not necessarily.
Studies on Vitamin D, and supplements in general, are difficult to perform. A major reason for this is supplements are not regulated by the FDA like prescription medications. This leads to variances among different brands, simply put, less stringent quality control.
How can you compare one study using supplement "X" to another using supplement "Y?" This is just one of many challenges faced in studying supplements. Epidemiologic studies are promising, so perhaps it is just a matter of time.
If you are currently taking or decide to take a supplement, it is best practice to buy directly from a health practitioner, whether that is your primary care doctor, dietician or chiropractor.
If you don't have access to one, a knowledgeable health store or pharmacy is the next best bet. Try to find supplements that are third-party tested, so their contents are verified from a separate company. These are small steps that can improve the chances you are getting a quality product.
Like you always hear on every TV ad, "Before starting this drug it is important to consult with your doctor," this also applies for supplements and should not be disregarded. One major reason for this is there can be interactions with medications you might be taking.
Let's say you're on a statin for high cholesterol, which is very common. Statins increase Vitamin D in the body so your requirements for that supplement is likely different than the general public.
Also, it is ideal to know if you have normal liver and kidney function. Bring your supplement bottle with you during your doctor visit and never feel hesitant to say you are taking herbs, supplements or using alternative medicine.
Yes, this winter is soon winding down but it gives you the opportunity to conduct your own research and time to discuss with your doctor.Vitamin D supplements are safe when taken as directed and something to consider adding to your diet in the winter.