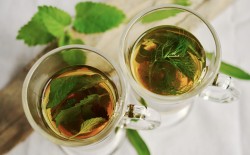 Shopping can be a stressful experience, especially while looking for healthier food items or trying to decide which supplements you need to add to your regimen. It can be mind-boggling for someone stepping onto the path to a healthier lifestyle. We asked Swanson's retail employees to share what their favorite products are to buy, and they are happy to share their feedback.
Swanson's Hyaluronic Acid Facial Serum
Many of our favorite products tend to change with the seasons. This winter has been especially cold and dry, which takes a toll on all skin types. One of our favorite products for softening skin is Swanson's Hyaluronic Acid Facial Serum. The serum is 99% pure Hyaluronic Acid, and is paraben-free. A few drops of this serum will go a long way, and is incredible at retaining the natural fluid balance of the skin. Follow up with your favorite moisturizer, and the difference will be noticeable almost immediately!
Optimum Whey Nutrition HydroWhey protein
Protein powders are wildly popular among athletes and anyone looking to up their protein intake. Protein is crucial for the production of muscle mass. Powdered forms are preferable as they are easier to digest than solid foods. But many people struggle with the taste of certain protein powders.
The Optimum Whey protein powder, which includes a "turbo chocolate" flavor is ideal for someone with a picky palate and tastes great with either hot water or milk. This protein powder contains 30 grams of protein, one gram of carbohydrates and two grams of fat and has a whopping 40 servings. It's also hydrolyzed, which means the protein is broken down into smaller pieces to speed up digestion.
Phosphatidylserine
This essential fatty acid is found naturally in the body, but most of our intake of this vital phospholipid is from food. Phosphatidylserine is one of our top favorites for cognitive support and memory, and is helpful in supporting cortisol levels already within the normal range. When our cortisol levels get out of whack from too much stress, it can lead to compromised health.
Vitamin K2
If there were a top ten list of vitamins, K2 would definitely be near the top. Dr. Weston A. Price thought it was the mysterious Activator X, a fat-soluble vitamin close to vitamin A.
K2 activates two enzymes in your body, Osteocalcin and Matrix GLA. So, what does that mean? K2 helps your body properly absorb minerals and is crucial in creating healthy bone tissue and forming robust bone matrix. K2 can be found in some foods, such as grass-fed butter, grass fed meats, certain fermented veggies, and natto.
Many of you are only familiar with vitamin K1 which is found in leafy green plants and is different than K2. K1 isn't absorbed as well and is primarily used for blood clotting support. K2 is the biologically active form of K and works synergistically with vitamin D and calcium.
Health-supporting mushrooms
Herbal Mushrooms are easy to adore with their plethora of health-supporting actions, and there are many to choose from. Having the force to harmonize the immune system is just one of their gifts.
Two favorites and best sellers are: Red Reishi (Ganoderma Lucidum) also known as Ling Zhi in Chinese. Reishi is the most studied herb in the world and is recorded as being used for the past 2000 years. It is often taken for maintaining optimal health, helping bolster the immune system, supporting the health of the liver and elevating the spirit with its adaptogenic properties.
Second is Chaga (Inonotus Obliquus) which is found mostly on Birch trees. Chaga makes a great tea! Brewing up a big batch of tea and using it as a base for smoothies is a great way to get this into your system daily. Plus the mild vanilla coffee flavor and aroma are definitely for loving. Chaga has been touted as being an excellent source of antioxidants. It is a nutritional powerhouse of polysaccharides, enzymes, proteins and sterols, and phenomenal for supporting the immune system.
Halo Top ice cream
While Swanson's is best known for its large selection of supplements, you may not know that the retail store also has an extensive selection of natural and organic foods. One of the hottest selling items is Halo Top Ice Cream, and Swanson's is only store in Fargo that sells all 17 flavors! Halo Top is a good source of protein, and one pint is between 240-360 calories depending on the flavor. Creamy and rich, this amazing ice cream will satisfy your sweet tooth and be kind to your waistline too.