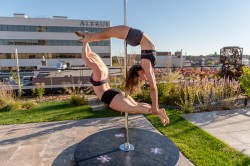 "We haven't been open for a year yet, but it took us some time to get established as a reputable fitness facility--just because it's so new and pole is such a controversial form of fitness." says co-owner Misty Tomchuk. Zero Gravity is a Fargo-based fitness studio that hosts a variety of classes including pole, aerial, barre, yoga...to name a few.
According to the International Pole Dance Fitness Association, pole dancing has ancient origins that can be traced back to the ancient Sumerians, but the pole dancing our culture has become most familiar with gained popularity in the early part of the 20th century, with the traveling circus.
It eventually made its way out of tents and into clubs by the late 1960s. Canadian performer Fawnia Dietrich popularized pole dancing as pole fitness, teaching the first-ever pole class to non-performers in 1994.
Why pole fitness? Co-owner Gina Bushey says, "I had an extreme discontent with my middle-class adult life. I was so bored and I needed something to do that was different. I have a performance background and did a lot of theatre, cheerleading, and dance when I was younger--and they don't really have that for 30-somethings." So she took classes, increased her strength and wanted to push herself.
Tomchuk's story was a bit different. She came across an ad for a pole fitness class while out on the town. "I was like WOW! What is this? I have a very athletic background. I trained for jiu jitsu and other things, but what really caught me is it was like sanctuary. It was this time where I could be focused on myself and it was a stress release and it was a break. I was able to do these cool things and it was challenging. I got stronger than any other fitness I had ever done, probably because it helped me connect with myself."
Pole instructor Amanda Delapointe started pole in 2000 with a circus and burlesque background. "I couldn't have giant circus equipment in my house but I could have a pole in my house."
Delapointe teaches flow classes that incorporate the fundamentals of pole with dance elements. "There are a lot of cool things that you can do before you start inverting. If you come to my classes--I go on and on and on about how much I love the fundamental moves because they are the ones that tie everything together. I like to tie pole tricks together using dance. I think it's a good way to build up your flexibility and you're building up strength while dancing and not noticing you're working as hard as you are."
Instructors and students alike recently competed in a pole competition at the Maplewood Community Center in Saint Paul. Zero Gravity brought eight participants to Saint Paul and three brought home medals out of 40 competitors. Medals included second in advanced pole, and first and third place in intermediate.
Zero Gravity isn't limited to just pole fitness. Aerial fitness and aerial yoga classes are offered as well. I had the opportunity to try an aerial fitness class--which was somewhat intimidating to an uncoordinated, inflexible writer such as yours truly--I'm the kind of girl who gets stressed out by yoga. But I was able to participate and complete the hour-long class--feeling satisfied. I might not be able to do a pull up but at least I can tell all of my friends and co-workers about my experience hanging upside down from a silk, laughing victoriously as the blood rushed to my head.
It was very much a work-at-your-own-pace environment. After various poses were introduced to the class, Misty walked among the students, aiding as a spotter for those who requested it. The class finished with a cool-down that consisted of a few short (stress-free) yoga poses on the floor.
I could see the draw and the will to improve as I watched one woman practice graceful acrobatics on the pole, across the gym from the aerial space.
Tara Wittman, who regularly attends the once-a-week class, found out about Zero Gravity online. "I was drawn to Zero Gravity because I had kind of started aerial in California, and wanted to find a studio here where I could continue."
"It's inspiring to hear all of the different stories and see everyone come in for different reasons--which makes it really unique, whether they want fitness or friendship, entertainment or for performance reasons, everyone has a different story." Misty Tomchuk said.
YOU SHOULD KNOW
http://www.zerogravityfargo.com/