​An Exciting World: Dementia Cures And Sexy Transplants
Gadfly | June 24th, 2015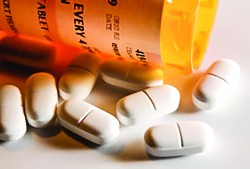 We Live In Exciting Times….A Writer's Dream
I'm a news junkie. It's been a wonderful week to live in a world with instant communications dominated by presidential candidate The Donald-I'm very-rich with real hair, and the encyclical by Pope Francis which urges us to save the environment so the poor can survive in a world of hyperconsumption. Guardian George Monboit wrote a rather poetic article Why We Fight For The Living World: It's About Love, And It's Time We Said So: "Who wants to see the living world destroyed? Who wants to end the birdsong, bees and coral reefs, the falcon's swoop, the salmon's leap? Who wants to see the soil stripped from the land, the sea rimed with rubbish?...Seven billion of us allow fossil fuel companies to push shut the narrow atmospheric door through which humanity stepped. We permit industrial farming to tear away the soil, banish trees from the hills, engineer another silent spring….We watch mutely as a small fleet of monster fishing ships trashes the oceans. Why are the defenders of the living world so ineffective?" He continues: "I see the pope's encyclical as a potential turning point. He will argue that not only the physical survival of the poor, but also our spiritual welfare depends on the protection of the natural world; and in both respects he is right." But now the question is, are we taking one step forward while taking one back—or are we taking two steps back? It's still too difficult to figure---whether education will win out over ignorance.
The latest Time magazine has an excellent article about addiction of prescription drugs, particularly opioids, by people who claim persistent pain problems. Doctors are prescribing enough opioids (drugs related to heroin) each year now to medicate every American for a month (We now have about 312 million people and are growing by the hour). We are dumb enough to murder 11,000 and kill another 19,000 with firearms each year, and put another 100,000 in hospital beds because of gunshot wounds (How about the expense of repairing intestines riddled with .357 holes?). We have reached the point where 46 Americans die of prescription opioids each day—and we now kill 8,000 a year with heroin overdoses. It has reached the point where middle-aged Americans are more likely to die of a prescription overdose than to die in an auto accident or of a violent crime. At the present time 9.4 million take opioids for long-term pain, and the National Institutes of Health estimate that 2.1 million are hooked. Four out of five heroin addicts say they got hooked on opioids and switched to heroin because it's cheaper on the street. Opioid pills are widely available on the black market. Can't we control the production of opioids to the current number of prescriptions? Is it impossible to control the black market when millions can be made? We are evidently taking two steps back with drugs.
The Week's Exciting News About Transplants And Dementia
The annual meeting in Annapolis, Maryland of the American Academy of Neurological and Orthopaedic Surgeons listened to a long presentation by Dr. Sergio Canavero of Italy's Turin Advanced Neuromodulation Group. He is recruiting surgeons to assist him in performing the first human head transplant sometime in the next two years. He already has a volunteer for the revolutionary procedure. Valery Spiridonov, a 30-year-old Russian, has Werding-Hoffman disease, or spinal muscular atrophy. Valery, who needs help in just sitting in a wheelchair, said at the conference: "I believe my body is just mechanics that I want to have removed." Canavero said that head transplants of mice had been successfully performed in China, utilizing a glue that put the motor centers of the spinal cord back together after they were severed. A nurse at the conference had an interesting question: "Suppose you have a head transplant of someone who's an artist and on someone who is not an artist—will that person be able to make the hands and arms still draw?" Canavero's answer: "You cut the spaghetto, you apply PEG (glue), and boom." I guess that's a "YES!"
It's been 200 years since Mary Shelley had Dr. Victor Frankenstein sew a head on his creation, often referred to in her novel as "monster," "fiend," "wretch," "demon," and "it." Perhaps the most descriptive term was "the Adam of your labours." Frankenstein's creature was an NBA-attractive eight feet tall (Victor had a hard time squeezing all those foreign parts into one six-footer). After the head transplant ("It's alive!") comes an interesting plot. The "wretch" wants Victor to create a female mate for him. He argues vociferously that he is a human being and has a right to happiness, and that he will take his mate to South America and live in the wilderness. Read it--or see the movie starring Boris Karloff. It's a fascinating story. And speaking of the desire for sex and procreation by Frankenstein's Adam, the world's first successful penis transplant was performed in Cape Town, South Africa about six months ago. Many African tribes still have adolescent and adult male circumcision religious rituals performed by tribal people with no medical training. The act is often celebrated as the passage to manhood. But the non-clinical settings for the ritual result in numerous infections for the penis of young men, sometimes resulting in the loss of it. A man's first penis was amputated to save his life after a coming-of-age ceremony. The transplant operation took nine hours and it was expected that it might take two years to restore urinary and reproductive functions. The 21-year-old man's girlfriend is already pregnant. Doctors in China had attempted the first penis transplant, but it was removed after the recipient suffered a severe psychological reaction. This procedure could be two steps forward. In neither case did authorities reveal the source of the transplant.
A Recipe For Building Immunity To Dementia…And Other Revelations This Week
British and New Guinean scientists say in findings published in Nature that a New Guinea tribe called Fore have controlled the spread of kuru prion disease, a very deadly form of dementia, because they practice a traditional ritual of eating the brains of deceased relatives. The disease, similar to Mad Cow Disease (BSE) in cattle, used to cause the death of about 2% of the Fore population back in the 1950's. Now tribe members have developed a strong resistance to kuru prion over the years. The doctors say members who have survived this dementia have a gene that stops proteins from mutating and forming brain-damaging polymers. Interesting tidbit: the tribe has very few members with Parkinson's.
Perhaps some day celebrants who fire rifles into the air at weddings, victories, and other pleasing events will actually take time to study gravity. Middle Eastern tribes and others around the world have probably killed hundreds of people over the centuries firing millions of bullets skyward. In northern France this last week a young woman was killed by a bullet falling from the skies as she watched a wedding procession going slowly down the street. The wedding participants were not identified, but I would guess it was probably a Muslim wedding. My French relatives are way too cheap to waste a bullet in celebration. They lift glasses filled with the good stuff instead.
The good old hymn "Onward, Christian Soldiers" took on a new meaning for me this week when I read that Army Chaplain John McDougall published his book Jesus Was An Airborne Ranger and was promoting it in a video in full Army uniform. He said he had written the book because "the Jesus of many churches is a weakling—someone our Rangers cannot relate to." So a weakling ended up on the cross? Would Jesus have a stronger image if he wore camos and carried a spear or a .50 caliber sniper rifle on his shoulder? McDougall, a chaplain with the 75th Ranger Regiment, says he wrote the book "to counter the notion Jesus was not a fighter." Critics say the book and video is great propaganda for ISIS (Islamic State), which already believes we are involved in another religious Crusade. So far I have counted 15 "Crusades." The chaplain had better trade his Bible for an M-14 or other weapon. By the way, the chances that atheists are in foxholes are even greater now that about 30% of Americans have no religious affiliation.
I wonder if there is actually an answer to the fact that, according to Health Affairs, the average hospital charged $54,000 for a major joint replacement in 2013 while Medicare on average paid less than $15,000. The typical response from hospitals is that hardly anyone pays the $54,000! In that case, why do hospitals use $54,000 as the list price? Who pays the full price? Some poor sucker must pay it---or is it just a bargaining chip? What do the uninsured pay for a major joint replacement? The list price which may be on the far north side of $50,000? What happens if you have to go to a hospital outside of your network and the hospital is one of the 50 most expensive? Will you pay $150,000 or be sued if you don't? The health policy journal Health Affairs just released the names of 50 hospitals in the U.S. that charge an average ten times what is allowed by Medicare. In other words, these hospitals charge about $150,000 for a major joint replacement that Medicare pays $15,000 for. Hospitals always complain that Medicare pays too little for all care. But Medicare bases its reimbursements only after extensive analysis of the actual costs of the procedure, plus a reasonable amount to invest in hospital improvements. By the way, 49 of the 50 highest-price hospitals are for-profit and are often operated by large chains such as Community Health Systems and Hospital Corporation of America. I would love to have a chief financial officer of a hospital respond to this—and correct my errors.
If you have a problem with a gene that allows a protein deficiency to clog your blood with fat, a Dutch biotech firm has developed a drug therapy for altering the gene that requires 42 injections from 21 vials over a period of time. The total protocol will cost you $1.4 million. If you go to Germany for the therapy you will get the best deal. Germany has an automatic 7% discount on drugs!
It was reported this week that fewer young people are binge drinking. But it is evident our close cousins the chimps are taking up the slack, particularly in Guinea. They have discovered why their local human cousins are extracting sap from palm trees in buckets. It ferments into a potent alcoholic brew in just a few hours. Both male and female chimps start partying as early as 7 a.m. The chimps try to get to the buckets before the humans. A single tree can yield as much as 50 liters of sap. The most potent sap checks out at 6.9% alcohol by volume. Most of the chimps spend the day sucking up the brew or dipping large leaves and sipping slowly. A fascinating thing about drunk chimps. They are not nasty drunks. They all have a good time raiding the buckets, spending most of the day frolicking or swinging from tree to tree.
One does not have to take opioids, heroin, or suck up palm sap to brighten the day. Just be a news junkie.