​Burlesque of North America: a taste of the Twin Cities in the Music City
by Sabrina Hornung | .(JavaScript must be enabled to view this email address) | Arts | March 28th, 2018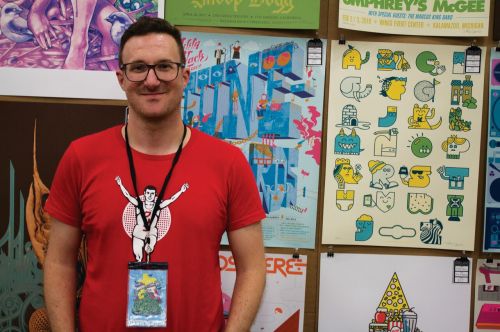 There are so many cool places to be in Austin during the South by Southwest Festival -- like the Flatstock Market, which displays the works of the world's top gig poster artists. The show features posters of varying styles, colors, and techniques, for sale by the talented artists who created them.
With so many people from everywhere under the sun, we bumped into Mike Davis, design director and one of the minds behind Burlesque of North America, a design company based out of Minneapolis.
High Plains Reader: Can you tell me a little bit about Burlesque of North America?
Mike Davis: Yeah, Burlesque of North America is a creative studio based in Minneapolis. We focus on the high end graphic arts and screenprinting. We started in the early 2000s, it kind of started out with us creating a studio graffiti magazine called "Life Sucks Die." We all worked on that together, when we were learning how to put together a magazine, we made all these connections in the Twin Cities, in the music industry around town, and figured out how to do design, how to lay out a magazine, how to lay out an album, how to design posters, we got into screen printing, we got into doing design for hire.
HPR: What's your art background?
MD: I studied graphic design, me personally, that was always my interest, and then Wes Winship, my partner, did screen printing as a way to make his artwork and that's a great way to produce his art and he developed that to turn a profit. It was interesting not knowing anything about screen printing and then coming to learn about it and making it my career, over the years. We've gotten this far and learned so much along the way.
HPR: Fantastic. So what kind of posters have you done? I mean like what kind of companies have you worked for? What kind of gigs?
MD: So we started working with venues around the Twin Cities like First Avenue, Triple Rock Social Club, and then eventually started working right with the bands and the record labels. It's more official. If you're going to make something with the band's name on it, they should know and approve of it. We've done a lot of work for Rhymesayers out of Minneapolis, more than 50 posters for Arcade Fire. the Melvins, Chromeo, Phish, Snoop Dogg, a good range... we don't stick to just one genre and we all have a variety of tastes and all dig a different style of creative art. We don't want to have one creative style or one pocket that we fit into. We'll try anything we're interested in.
HPR: Fascinating. So how big is your team?
MD: Including myself, we're five.
HPR: How did you find yourself at South by Southwest?
MD: It's a big convention of gig poster artists. Flatstock is an online community of poster artists and they started to get the word out that this was starting to happen. You know--come down to Austin there's a big music festival and sell your posters. So we started coming here in 2006, and kept coming back every year. We love seeing our poster friends--It's a community.
HPR: How has your experience been so far this year?
MD: The changes have been very positive. The festival seems to grow and shrink every year. You never know who's going to be here or what they're going to purchase from us. We bring new things, we bring old things. It's always interesting to see who's here and what they brought.
HPR: I suppose this is a great opportunity to make connections in your industry…
MD: I mean just being here is like having a billboard out. Record label representatives and all kinds of people come around saying--oh I like your work I'd like to hire you for this event… We've definitely gotten a lot of design jobs by meeting people at SXSW.
YOU SHOULD KNOW
BRLSQ: Burlesque of North America
1101 NE Stinson Blvd #12
Minneapolis MN (612) 379-4151