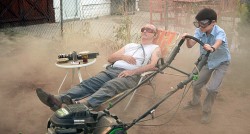 Like Herman Blume, the wealthy industrialist in Wes Anderson's awesome "Rushmore," Bill Murray's Vincent MacKenna is a prickly, disillusioned Vietnam veteran with a taste for alcohol and cigarettes. MacKenna is poor and Blume is rich, but both men reassess their lives following unexpected and unorthodox friendships with much younger boys. The formula of the weary old grump and the precocious, inexperienced cadet learning lessons from one another works better in Anderson's memorable film than it does in "St. Vincent," but writer-director Theodore Melfi still manages to locate a number of opportunities for beloved headliner Murray to demonstrate why he's a national treasure.
Murray is every bit as good in his mid-60s as he was decades ago in movies that established his cult bona fides. Before box office monsters like "Ghostbusters," Murray consistently made lasting impressions as either lead or support in "Meatballs," "Where the Buffalo Roam," "Caddyshack," "Stripes" and "Tootsie." "St. Vincent" is another golden opportunity to see Murray break out his sly and ornery misanthropy, even though we all know the kindness and humanity are hiding just beneath the surface – and will certainly show up in time for the wet-eyed finale.
Newcomer Jaeden Lieberher plays Oliver, the introspective, considerate son of Melissa McCarthy's struggling Maggie. They have the good and bad fortune to move in next door to Vincent, who soon becomes Oliver's paid "babysitter" when Maggie is stuck at work. Vincent treats Oliver to something resembling an education, with trips to the horse track and meals taken at a local watering hole. The situations are all as formulaic as they sound, but Murray makes up for any predictability with his convincing flair for the celebration of vice.
One of the more provocative aspects of "St. Vincent" emerges in the complex relationships Vincent shares with the women in his life. Given the man's host of socially frowned-upon behaviors, it's no surprise to discover that Vincent scrapes together enough cash to regularly employ the sexual services of pregnant, gold-hearted stripper Daka (Naomi Watts). But when Melfi reveals that Vincent is also providing for his wife Sandy (Donna Mitchell), whose dementia confines her to a long-term care facility, it is left to the audience to determine the extent to which Vincent's behavior is conscientious.
Melfi is blessed with a talented ensemble of actors. Somewhat surprisingly, however, several people expected to feature more prominently in the narrative take a back seat to the development of the central pairing of Murray and Lieberher. McCarthy rather convincingly demonstrates the same kind of skill handling serious dramatic material that has served co-star Murray so effectively in his career. Chris O'Dowd, as a wisecracking but warmhearted priest directly descended from Bing Crosby's Father Chuck O'Malley, does his best to breathe life into his character. Terrence Howard's role as a loan shark is so small that it is a bit surprising to see the Academy Award nominee in the part. "St. Vincent" is Murray's party all the way, though, and audiences are staying through the credits just to see Murray's spirited backyard sing-along to Bob Dylan's "Shelter from the Storm."