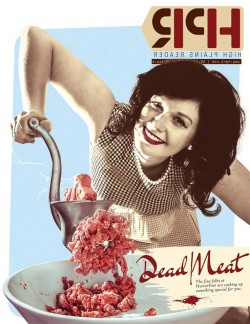 By Rick Abbott
As the leaves change color and the temperatures plummet ever lower, Halloween grows closer. If you've yet to get into the spooky spirit, there's a horror film trailer festival coming to the Fargo Theatre to help.
It's the second incarnation of Horrorfest, put on by Fargo Grindflicks.
KNDS Radio DJ Randal Black is part of Grindflicks, which started Grindfest, an exhibition of cult and exploitation movie trailers.
Black set up the first Grindfest at the Fargo Theatre in 2010, showing campy exploitation trailers, and followed it up with the first-ever Horrorfest in 2011, playing "Nosferatu," a 1922 German film based on Dracula.
As with the previous Horrorfest, Fargo Theatre's house organist Lance Johnson will be at the helm of the Mighty Wurlitzer, accompanying the showing of "The Cabinet of Dr. Caligari."
"If someone has never seen Lance and the Mighty Wurlitzer in action, 'The Cabinet of Dr. Caligari' will be a great first experience," Black said.
"Caligari" is a silent German horror film, released in 1920, that tells the story of a mysterious doctor who has displayed at a local carnival a man who's been asleep for 25 years. Under Dr. Caligari's command, the character of Cesare is awakened, stepping slowly out of his sarcophagus-shaped cabinet. Things turn decidedly darker when one of the witnesses to Cesare's awakening is found dead the next day and Caligari and his subject are suspected to be the culprits.
"Caligari" is considered one of the greatest horror films of the silent era, with abstract, tantalizing sets and backdrops.
"The original plan, last fall, was to host Horrorfest 2, but the universe was against us and everything fell apart before the festival," Black said. "The first Horrorfest we did still stands as Grindflicks' most popular event to date so we decided that we didn't really want to mess with the formula too much. We've kept the basic elements of what made the first one great but with new trailer compilations and different silent movie classics," Black said.
Grindflicks is a small group of local film buffs that aims to exhibit underground and cult cinema while at the same time entertaining audiences.
"You can show all the underground trailers/movies you want, but if they're not fun to watch, then you've failed your audience," Black said.
Black said the major difference between this year's Horrorfest and the last installment is the addition of fan-made trailers.
"Last year, a group of friends took the initiative to make a fake film trailer. The final product was so much fun that we not only showed it during last year's Grindfest 3, but inspired Grindflicks to reach out to other regional filmmakers," Black said.
The filmmakers took up the challenge, crafting their own trailers, and Grindflicks ended up with 10 submissions.
"I love the idea of our festivals serving as platforms to showcase regional talent. Hopefully this is something that we'll be able to expand on in future festivals," Black said.
To start the night off, a compilation of trailers called "Black & White & Blood Red" will be shown. The reel is full of monster flicks and spooky movies from the 1930s to the 1970s.
Then comes the screening of "Caligari," complete with Johnson's live organ accompaniment. After that, there is a short intermission, followed by the fan-made trailers.
Next, it gets even spookier, with a set of trailers that aren't for the squeamish. The Late Night Fright Feast features trailers for movies from the 1960s through 1980s full of "slashers, psychos, monsters and maniacs. And blood. Lots of blood," Black said. The Fright Feast is for those 18 and older.
Black said fans of horror movies of any type will be satisfied with Horrorfest. Still, if horror isn't your first choice, the night is all about having fun.
"Still, it is a celebration of horror movies. Things are bound to get a little gruesome," Black said.
Sidestreet Grille & Pub is providing beverages for those 21 and over, and all proceeds from Grindflicks events support community radio.
IF YOU GO:
WHAT: Horrorfest 2
WHERE: Fargo Theatre, 314 Broadway
WHEN: Thurs., Oct. 24, 6:45 p.m. (doors open @ 6:15 p.m.)
HOW MUCH: $10