​Fictionalized Civil War drama is entertaining feminist western
Cinema | April 1st, 2015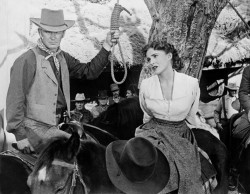 Next week is the 150th anniversary of the end of the American Civil War. For over a century, numerous films have treated various dramatic aspects of the subject, some of the more famous ranging from "The Birth of a Nation," "Gone With the Wind," "The Red Badge of Courage," "Glory," "Gettysburg" and the recent "Lincoln." Several have also fictionalized to various degrees the exploits of notorious Confederate guerilla William Quantrill and his raiders. One of the most obscure films, "Woman They Almost Lynched" (1953), made at the low-budget Republic Pictures, is also one of the best. Amazingly, it came out on Blu-ray earlier this year.
The title may sort of give away the ending, the disc's hokey box cover art looks like an exploitation film, and misleading original advertising copy makes it seem like Audrey Totter's character Kate Quantrill is pretty much the whole show, even though she's third-billed under male leads John Lund and Brian Donlevy, and the central character is actually played by fourth-billed Joan Leslie.
Nevertheless, this obscure western is a forgotten gem that has been unjustly neglected for over 60 years. Veteran Alan Dwan's skillful direction and prolific writer Steve Fisher's script focus on both action and characterization, with a number of unexpected variations on the standard western genre, especially considering its date and its studio.
The basic plot sounds on the surface like it will have a familiar, routine formula. The setting is at the end of the Civil War in a small but violently neutral Missouri/Arkansas border town. A mine owned by the town's mayor is supplying lead to both the Union and Confederate armies, with the renegade Quantrill's Raiders forcing their way in to replenish their own lead supplies. The film opens with the arrival of an innocent young sister from up north, unaware her brother has become a hardened and hard-drinking saloon owner whose singer girlfriend had been kidnapped and then married by Quantrill. The Quantrill gang includes such other notable historic characters as brothers Frank and Jesse James and Cole and Jim Younger.
It soon becomes apparent, however, that Charles Quantrill (Brian Donlevy) and Jesse James (Ben Cooper) are secondary characters, with Frank James and Cole Younger relatively minor (though the latter does become a brief threat to our heroine). Bar owner Bill Maris (played by veteran Republic actor Reed Hadley) gets killed off in the first ten minutes! The film's primary conflict is between Sally Maris (Joan Leslie), who suddenly inherits her brother's saloon, and Kate Quantrill (Audrey Totter), Quantrill's wild and embittered wife. It is her taunting and mocking that leads to the shooting death of Sally's brother at the hands of mine foreman Lance Horton (John Lund).
Horton eventually becomes a major supporting character as the film's romantic interest, among other things. The mine-owning mayor, meanwhile, is a tough and intimidating woman, Delilah Courtney (stage star Nina Varela), whose ruthless word is law in the town. She is also at odds with Sally's plans for the saloon. The saloon girls (including notable actresses Anne Savage and Virginia Christine) rally around Sally, however, who proves to be much tougher (and a better shot) than anyone anticipated.
What we quickly wind up with is a heavily feminist western unusual for its era. Events build up to a knock-down drag-out barroom brawl between Leslie and Totter. Then a bit later there's a critical gunfight showdown between them out in the street. There are distinct similarities to Nicholas Ray's cult classic "Johnny Guitar," which would come out the following year, also from Republic. But "Woman They Almost Lynched" does not have the pervasive, over-the-top campiness provided by Joan Crawford, Mercedes McCambridge and the rest of that film's cast, and it lacks the heavy-handed topical political metaphors of "Johnny Guitar."
Although the brawl and gunfight are key climactic moments, several additional developments and plot twists remain in store, as things eventually lead to the main climax implied by the film's title and a semi-surprise resolution. "Woman They Almost Lynched" may be just a Republic B-western, but it is an action-packed and highly entertaining melodrama.
Joan Leslie has one of her meatiest roles, and she should have received top billing. Audrey Totter, better-known for her numerous film noir femme fatales, plays it mean in her best style, yet she gets to show a vulnerable side as well and even sings a couple of pleasant, if anachronistic bluesy songs ("All My Life" and "How Strange").
The film's only fault is some tedious exposition, presented through a couple of pretty heavy-handed "here's-what-the-audience-needs-to-know" dialogue scenes toward the beginning and, again, toward the end. Overall it's a surprisingly effective and unpredictable genre picture that deserves to be much better known.
The Blu-ray from Olive Films looks extremely good and film-like. Other than some grainy stock footage during the opening sequence and occasional soft-looking shots, it has a crisp HD scan with fine contrast range. Audio is also quite good. Unfortunately, as usual for Olive, there are no bonus features other than a main and chapter menu.
"WOMAN THEY ALMOST LYNCHED" on Blu-ray – Movie: B+ / Video: A / Audio: A- / Extras: F