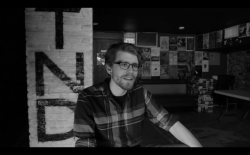 Even though I didn't discover the place until a little over a month before it closed last September, The New Direction left an indelible impact on me. The sense of community, do-it-yourself attitude, and love of local and independent music struck a chord in me in that short span of time, so I can only imagine the impact it had on those who had been regularly attending performances there for years.
The sheer energy of the place left an impact on someone else whose experience was about as cursory as my own. Oscar De Leon of local film production company Chamber Six Media hadn't set foot in the place since it was the old location of the Red Raven. He knew the owner, Jack Stenersen, through a web of friends. "I kept hearing about the success of it," he said. "I was more curious than anything."
In January 2016 he set out to make a little ten-minute piece, a "website tease" as he put it, about New Direction and the community surrounding it. Those plans expanded in scope as he heard about the impending closure, and what started as a local culture piece turned into a 33-minute documentary to be presented at the Fargo Theatre this Friday, April 21.
De Leon started Chamber Six Media three years ago with two of his friends, Kevin Ackley and Chris Parsons. "The intention was to do whatever we were interested in, something we're passionate about," he said. The subject matter of their output runs the gamut, from short films to a regularly produced political show, a podcast, and even the odd wedding filming.
All three of them would contribute to the creation of the documentary over the months that followed. "We all contributed to the creative bent of the narrative," as De Leon said. "Filmmaking is a collaborative effort."
As time went on, they kept up with the happenings at the New Direction, drawn in by the stories of its performances and tight-knit community. "I was wondering what kept young people coming to what was essentially an old basement. I learned it was a lot more than that," De Leon said.
In the course of making the documentary, De Leon filmed several interviews with the owner of the venue, Jack Stenersen, as well as those who regularly volunteered at and patronized the New Direction. Once he caught wind that the place was closing due to a hike in rent prices, he decided to expand the documentary to include that as well.
He had originally intended to release the documentary in December of last year, but when he found out that New Direction would be holding another New Direction Fest at the Aquarium despite the closure of the physical venue, he knew he had to extend production to include it.
"It was kind of a beautiful ending, bittersweet, speaks to the essence of the venue," he said. "It's a good thing it's going to be continuing in one form or another."
De Leon hopes that the film can address another subject besides that of the enduring legacy of a well-beloved music venue on its patrons. "It's a documentary not only about a venue but about a place that ultimately was the victim of gentrification," he said. He hoped that by telling this story from a Fargo perspective that the point could really be driven home that gentrification can happen in big cities and smaller towns alike; and that the effects that this hot-button issue can have are not just economic but emotional.
In this way, perhaps the film can serve as a cautionary tale about the risks we can run in pursuit of economic gain. How much can more money for a town mean if we lose part of its soul? This documentary will help contribute to that conversation and keep its spirit alive.
IF YOU GO:
TND documentary premiere
Friday, April 21, 7-9pm
The Fargo Theatre, 314 N Broadway