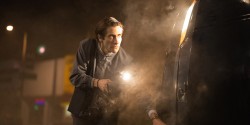 One of the best films of 2014, Dan Gilroy's "Nightcrawler" is thrilling metafiction that simultaneously wallows in and critiques the lurid relationship between violent crime and broadcast/cable/Internet news. The writer-director also thoroughly explores the insatiable hunger of the viewing public to devour stories of death and mayhem, and does so with a jet-black comic touch. Additionally, Gilroy's movie is clearly made by a film lover for film lovers, deliciously referencing several beloved titles. In particular, "Nightcrawler" is the twitchy offspring of two 1976 masterpieces: Sidney Lumet and Paddy Chayefsky's "Network" and Martin Scorsese and Paul Schrader's "Taxi Driver." Paying homage to the former's satirical bite and the latter's diary of madness, "Nightcrawler" shimmers and vibrates from start to finish.
We meet Jake Gyllenhaal's hollow-eyed Lou Bloom in the middle of a late night theft of some chain link fencing that he sells to a shady scrapyard. When Lou opens his mouth to request a job from the dubious night manager, a torrent of fortune cookie wisdom, self-help platitudes, and motivational poster-speak ("My motto is, if you want to win the lottery, you have to make the money to buy a ticket") sounds an alarm that Bloom is not entirely in balance. Lou's chance encounter with a veteran "nightcrawler" – a crime scene videographer in the tradition of street photojournalist Weegee who prowls the streets for opportunities to document fresh disaster – inspires him to pick up a camera and start collecting his own footage.
Bloom blooms, and soon embarks on an odyssey decidedly more bloody than the one experienced by his Dublin-based namesake, although as a character, Lou has more in common with "God's lonely man" Travis Bickle than with James Joyce's famous peripatetic. Like the damaged cabbie, Lou is a volatile cocktail blending one part childlike naivete with two parts bad ideas. Bloom's earnestness only escalates the creep factor, especially when he starts to deliberately blur the line between documenting and creating the "news" that he sells to Rene Russo's Nina Romina.
As the unscrupulous, desperate TV veteran, Russo is dynamite in "Nightcrawler," and her scenes with Gyllenhaal suggest that when people without morals or ethics form an alliance based on radical frankness, the results can be gonzo. Nina's handling of Lou's vile sexual blackmail is one of Gilroy's nastiest surprises. Less surprising is the thanatotic impulse that drives these two creatures more than money and libido. Outside the station, Lou's eager trainee Rick (Riz Ahmed, in a riveting performance) learns these lessons and then some.
Long before Lou trades his clunky beater for a shiny red Challenger to more quickly arrive at crime scenes, Gilroy has established his gutsy, cockeyed view of rapacious capitalism. Crazy, untrustworthy, and feverish, Lou's ambition is matched only by Nina's merciless survival instinct, and their alliance is as toxic as it is deliciously, impossibly absurd. Not everyone will accept Gilroy's sense of humor, although the shot of Lou chuckling at a clip from "The Court Jester" is tough to deny. Writing in "Variety," Scott Foundas makes the claim that "Touches of apocalyptic comedy run throughout 'Nightcrawler,' but the movie's overriding tone is one of strident, finger-wagging self-seriousness." Never for a second, however, did I read Gilroy's intentions as didacticism.
"Nightcrawler" is a movie that could earn its own section in any update of Thom Andersen's "Los Angeles Plays Itself." From Venice Beach to the Capitol Records Building to the LAPD's Hollywood Station, ace cinematographer Robert Elswit reimagines iconic landmarks for the umpteenth time. Lou's scanner eavesdrops on the police band, guiding him like the Grim Reaper to locations in the Hollywood Hills and all over the sprawling San Fernando Valley; and many of the neon-lit rides call to mind the nocturnal automotive allure of films like "Collateral," "Drive" and several dozen film noir classics from the mid-20th century that led the way.