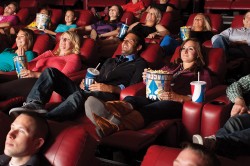 Movie theater outings, now more than ever, are becoming more about the entire theatrical experience – not just the picture.
This is especially the case for Marcus Theatres customers in Fargo. West Acres Cinema and Century Cinema, the two largest movie theaters in the area, have been significantly upgraded.
General manager Rick Solarski gave HPR a rundown on what moviegoers need to know about the changes.
Reclining chairs: West Acres' UltraScreen theater and Century Cinema's entire theater have upgraded to spacious, plush DreamLounger chairs. The armrests can even fold up for cuddling purposes. The chairs are, in fact, so large that Century Cinema went from 1,650 total seats to 890.
Solarski said despite cutting the seating in half, customer satisfaction – and ticket sales – are continually increasing.
Advance tickets/assigned seating: While purchasing tickets, customers now choose where they sit by selecting from a seating chart at the box office and online. Solarski said it "alleviates the frustration for the customer," especially for full-house movie screenings. It also makes it easier for bigger parties to sit together.
State-of-the-art sound: The two cinemas' UltraScreen theaters now have Dolby Atmos speakers. That means multidimensional sound with "individual channels on each speaker all the way around -- plus subs on this thing," Solarski said. So essentially, if a fly is swarming on screen, the viewers will hear it going around their heads. Or if it's raining, viewers will hear it above their heads. Or if something is coming from behind …
More alternative content: What many locals may not know is that Marcus Theatres offers alternative content such as boxing matches, rock concerts, live theater events, political documentaries, food documentaries and more, depending on local demand.
The Metropolitan Opera, for example, is broadcasted live every season on Saturdays, along with encore performances on the following Wednesdays at Century Cinema. Upcoming performances include "The Barber of Seville" on Nov. 22 and 26 and "The Nutcracker" on Dec. 21.
Continued $5 screenings: Every Tuesday, all non-3D movies cost $5 to attend, even box office hits. For students, the same deal applies on Thursdays – with the addition of free popcorn.
"It's been so successful other chains are copying it," Solarski said.
Rewards: Free movies, discounts and special deals are all up for grabs for Magical Movie Rewards members. The program is free to sign up for.
"Just this last week we gave away two free screenings," Solarski said. "You don't have to go to movies and you get to see movies for free. It's probably the most exciting thing that's come out of this company."
IF YOU GO:
West Acres Cinema
4101 17th Ave SW, Fargo
(701) 461-8902
Century Cinema
3931 9th Ave SW, Fargo
(701) 461-8902
marcustheatres.com