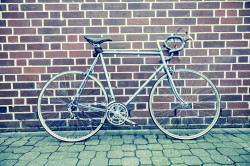 If you've ever heard of gravel bike racing or "gravel grinding" you've probably heard of the Almanzo. It's a one hundred mile bike race that takes place on the Southern Minnesota border right outside the small town of Spring Valley.
There's no fee to ride or rider cap. Riders register by simply sending in a postcard with their name and email address: a relatively unique experience in today's pay-to-play race scene. With events like the Fargo Marathon setting you back a cool hundred-dollar bill to toe the line on race day.
I've completed one-hundred mile races similar to the Alamonzo in the past. However I still consider myself relatively green compared to many of my fellow gravel counterparts. Making rookie mistakes like missing turns, running out of water or in this case not dressing appropriately.
I'd been so focused on the mileage itself I forgot to check the weather, which was setting up to be quite a doozy. Forty degrees, heavy rains throughout the day, winds from the east at twenty-five.
Even though I'd left the best gear for the job at home, I did have my youth, the mileage and a water "resistant" yellow jacket. Resistant meaning, special care had been taken while designing the garment to increase its permeability to the elements to gain a greater breathability for the rider. In layman's terms, if it rained at all, I'd be wet in about five minutes.
I needed a new plan. I needed to find a way to stay dry for the remaining eight hours I planned to be on the bike after the race began, or I'd find myself 50 miles from home, wet, cold and SOL.
I made a stop at the local Kwik Mart and picked up some grocery bags with the intent to tear them into smaller pieces to line my riding shorts and tights in an effort to protect my joints, butt and legs from the rain. I was also able to scrounge up a large, black garbage bag from the custodial closet located at the camp where my friends and I were saying. I'd keep it in my pack as a sort of emergency shelter should I need it.
I know the bags I'd been able to gather couldn't make up for my lack in preparation but I hoped they would at least give me a chance to avoid hypothermia and finish the race.
The following day, myself and two hundred other riders waited patiently in the rain for the race to start. Despite my best efforts the night before, I was wet before the gun went off.
Twenty miles in I felt surprisingly good. Even though I was wet, the Kwik Mart bags blocked the wind for the most part and kept in some of my body heat. My hands were cold but I was able to practice fine motor skills like using my GPS or adjusting the zippers on my pack.
Staying warm had been my only focus since I'd arrived in Spring Valley and the surprising sensation of warmth left me dull to other important aspects of the ride, like where I was going.
I'd been blindly riding with a similar group the entire race, assuming those in front of me knew where they were going. Rookie mistake. While comparing the directions I was given to the mileage I'd ridden, it became painfully obvious to me the group was lost. Because I hadn't been paying attention, I didn't know where we'd gone off track or how long ago we'd done so.
I would now have to stop, re-orient myself and turn around. I took the big, black garbage bag out of my pack, pulled it over my head and got to work.
Soon after I decided to stop, another group of riders who had made the same mistake picked me up and together we rode back towards the course.
It felt good to find friends in the middle of nowhere, but even the short time I had spent finding the way, cost me valuable body heat. Despite the garbage bag I'd stolen the night before, the rain seemed to chill me to the bone.
I pedaled harder, momentary pulling ahead of the group in an attempt to warm myself, but was unsuccessful. The plastic bags that had once kept me warm had failed and now held forty degree rain water against my skin and in my shoes. My hands turned into what felt more like claws, requiring a fist instead of a finger to shift my bike.
How had I been so stupid? I became frustrated with myself, swearing loudly into the wind and rain. My race was over.
When the group finally made it back on course, I decided, teeth chattering, to give up and ride back to Spring Valley the short way instead of continuing for another 80 miles.
Despite my youth and training, overconfidence and a lack of equipment (which I left sitting at home because I'd be "fine") ultimately allowed the rain to defeat me in just twenty-three miles.
It was a tough pill to swallow but there was a Surly beer truck set up in Spring Valley when I arrived, which helped. It'd be a long trip back to Fargo but the heat in my van was cranked all the way up.
On they way out of town I made another stop at the Kwik Mart, this time to fill up with gas and pick up a postcard. I'll be back next year and I'll make sure to bring a rain jacket.