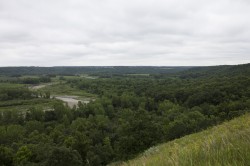 Offroad biking in the Pembina Gorge
The implementation of the Interstate highway system has made the lives of many more convenient. Straight roads, high speeds and minimal distraction expedites travel and decreases time spent on the road. They act as the main arteries and vasculature of the United States travel organism, pumping traffic and revenue between the country's vital organs.
While less convenient capillary road systems exist, many lead to smaller dots on the map. Dots that continue to play an integral role in the continuation and well being of our country, however often take less credit for doing so. The simple fact remains that however small these dots may be, they still require sustenance, visitors or locals to support and maintain the economic landscape.
Their inconvenience puts small towns at a disadvantage, but there must be a way to keep these dots from disappearing. Some in the northeastern corner of North Dakota believe a modern form of hide and seek known as Geocaching could be the answer.
Geocaching became popular in the early 2000s with the release of GPS Selective Availability to the general public. This allowed users greater accuracy and the capability to find and save the locations of significant places or objects through the intersection of latitudinal and longitudinal points on a map.
The pastime has grown significantly with the addition of GPS-capable mobile and smart phones. Today millions of geocaches exist around the world, and millions more are searching for them.
A local geocacher who goes by his Geocache username, Trycacheus, creates his own caches in the small town of Gilby, North Dakota. During our interview, Trycacheus told me he focuses primarily on puzzle caches which require geocachers who find them to solve a complex puzzle lock before the cache can be opened.
Trycacheus' creations have brought him sizable notoriety on the Geocache app and he told me people from all over the country have made special trips to Gilby on their way through North Dakota in order to seek out his caches. It is this loyalty and popularity that allows some to believe Geocaching could be used as a viable means of bringing tourism and revenue to businesses and historical landmarks in the region, such as the Edinburg General Store in Edinburg North Dakota, who house hidden caches at their locations.
The area has seen minor success so far, with Trycacheus hard at work building his infamous puzzle caches for notable locations, it's very possible loyal cachers will be visiting the area soon, bringing life through capillary country roads and oxygenating the region.
Pembina gorgeous
I jumped into my car and headed over to I-29. I was supposed to meet HPR Editor Sabrina Hornung and our Rendezvous Region contact in Walhalla by one and I was already late.
I'd worked the overnight shift at the hospital and only slept for an hour before heading out. I had also forgotten my mountain bike pedals and struggled tremendously to remove them from another bike upon my quick return home. What should have been the easy turn of a 8mm Allen wrench turned into twenty minutes of me screaming and cursing my bicycle and eventually unscrewing my drive side pedal by beating my multi-tool with a hammer. Long story short, I got my pedal off and blew off some steam in the process. I was on the road and hopeful the rest of the trip would be gravy.
I met Sabrina on the way and together we pulled into the Frost Fire Resort on High Plains Reader time. We were given our itineraries, which appeared jam-packed, and soon found ourselves floating down the Pembina River in a set of orange kayaks.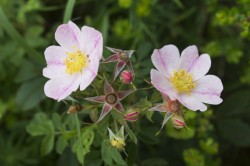 Early the next morning I met with two gentlemen by the names of Bill and Lorne. They'd be taking me for a loop through the infamous Pembina River Gorge on the local mountain bike/ATV trails. The duo met me at the Sanctuary Guest House and Tearoom where I stayed the night before. We shook hands, introduced ourselves and together made our way to the trailhead.
Bill, a young husband and father, juggles a family and fulltime job but still somehow manages to open and maintain his bike shop, Bill's Bikes and Stuff, in Cavalier, N.D. (just down the way from the Gorge we'd be riding in).
Lorne is a Canadian transplant and the youngest of thirteen children. I later found out he may or my not have a few miles of prime, ultra-techy single track in his backyard but you didn't hear that from me. He appeared more middle-aged and was wearing a "Rocky Mountain" mountain bike jersey. He laughed a big laugh and smiled a big smile. He told me not to wait up for him. Bill assured me I wouldn't have to.
We hit the trail which was composed of a very similar composition of clay and sand to I was accustomed to riding at home. Bill described it as, "not quite Red River Gumbo, but pretty close."
We'd been lucky however, trail conditions were a damp and slightly tacky texture, which allowed for fast and grippy riding. I was unsure if I'd be able to get excited about riding double-track ATV trails the entire trip. However, I was pleasantly surprised by how much fun I was having.
There were playful climbs and descents alongside loose gravel berms and sections of ATV rut. The trail dipped and weaved through the gorge, which required an acute sense of balance and technique to navigate successfully. We stopped from time to time to take in views of the Gorge and Pembina river, snack on wild juneberries and of course talk about bikes.
As our ride inched closer to its end the three of us happened upon another set of riders manning an aid station for a local off-road triathlon organized by Extreme Norah Dakota Racing (otherwise known END racing) called The Wilderman.
None of the tri-athletes had made it through the aid station yet but our two groups' mutual love for bikes made us instant friends. The Aid workers cracked us each a beer from their "super secret personal stash."
We laughed, showed off our bikes and indulged in the finest of barley sodas, until I was once again on High Plains Time. With that, we thanked the workers for their hospitality, exchanged high-fives (just because) and headed back to the trailhead.
I was late for my next engagement but in my own past experiences, bikes, beer and new friends are always worth the extra minutes. When we once again reached the trailhead I said my goodbyes to Bill and Loren, who now felt like old friends.
In true North Dakota fashion, the two welcomed me back any time, and I can honestly say I plan to take them up on it. New opportunities for outdoor recreation are brewing in the Pembina Gorge. With the construction of new trail and a ski lift-assisted downhill course set to begin in August, I'd say the future for this region appears very bright.