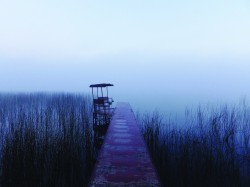 Frost smoke rolled off the water and gathered in the middle of the lake, obscuring anything and everything beyond the battered dock.
Somewhere in the mist, Canada geese called. The sunrise sparkled through the trees and a night light over a cabin window flicked off as the morning arrived.
This is Lake Metigoshe, a wooded paradise and well-kept secret of North Dakota and its Turtle Mountains.
Jagged shorelines circle the lake's mirror surface. Lakeside retreats ranging from old family cottages to newly built estates line the shore, left untouched in places like Lake Metigoshe State Park and Hahn's Bay Recreation Area.
Emerging from their tents, the smell of the forest hits campers' nostrils in the cool morning. A skunk escapes back into the brush before sunrise. A fox darts in and out of the bushes. And the birds begin a cacophony in the early morning.
From a distance, the serene Turtle Mountains appear as a turtle on the horizon, a dark hump straddling the U.S.-Canadian border in north central North Dakota. It's a long drive from most anywhere to get here, but there's plenty to see: The International Peace Garden, scenic State Highway 43, Mystical Horizons.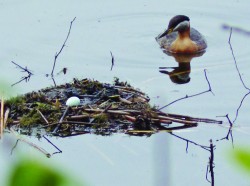 Lake Metigoshe, the region's largest lake, is a slice of Minnesota lakes country in perhaps the most treeless state in the Union. The Turtle Mountains are home to a fifth of North Dakota's forest land, which comprises less than 2 percent of the state's area.
Wildlife abounds here, from common loons, pelicans and downy woodpeckers, to white-tailed deer and raccoons.
Red-necked grebes scream at each other along the shoreline. Mallards shoot up from the water as an outsider intrudes on their turf.
And in that morning frost smoke, a beaver swims near the dock, disappearing with a splash and a slap of its tail.
Accommodations of every kind are available along Lake Metigoshe, from campsites for RVs and tents to hotel rooms to rental cabins. For those seeking solitude away from bustling busyness, the state park's Osprey Cabin lies tucked away on the shore of Lake Eramosh, less than a mile from Canada.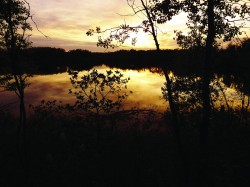 It's a primitive cabin with comforts including Coleman lanterns readily available and a pile of firewood. The spot is a bit unexpected at the extreme central northern border of the Lower 48, in a state devoid of trees and topographical features.