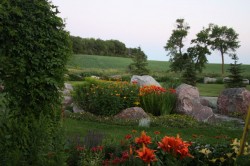 By Lauren Beek
The Rainbow Garden and Sculpture Walk is a beautiful little spot in the North Dakota countryside and is a clear indicator of the strong community that built it.
As soon as you enter the place, a sign proclaims, "The garden is supported and maintained by the people of Mayville-Portland and their friends." The gardens (seven to be exact) are all cared for and run by volunteers.
Sandy Braaten, president of the Rainbow Garden board, is grateful for all the help.
"In a little town, nothing happens without the volunteers," Braaten explained.
Established in 2005, this colorful community space is always open to the public free of charge. However, there is a donation box for those willing. Originally, the land was set aside to be a small zoo, but that didn't last for long. The empty space soon became the perfect spot for the dreams of Sandi Kemmers, Rainbow Gardens co-founder.
JoAnn Ewen, lead gardener and co-founder, explained that during a community meeting in 2004, Kemmers expressed her desire for a community garden and shared her idea of using the old zoo space.
With the help of many volunteers and the Goose River Bank, the community garden became a reality for the residents of Mayville-Portland by the summer of 2005.
Over the years, this shared space has proven to be the perfect addition to this rural town. Each spring, the surrounding community comes together every Saturday to clean up and get the gardens ready for another season.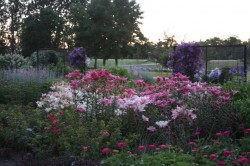 According to the Rainbow Garden website, the seven gardens each carry their own theme and story:
The English Garden – Based on the beautiful gardens found in England, this garden features plant arrangements and color groupings inspired by expert British gardeners like Gertrude Jekyll and Vita Sackville-West.
The White Garden – A quiet little garden that features the "Old Turtle"sculpture, whichhas become a favorite place for children's photographs.
The Cottage Garden – An age-old garden that uses seeds and plants traded with friends and features a homemade arbor fashioned of saplings.
The Rock Garden – This garden has big rocks for climbing and feels like the prairie with all of its native plants. It also displays Greg Vettel's "Sunflowers"sculpture.
The Children's garden – A favorite spot for the kids who visit Rainbow Gardens,this whimsical space features a colorful playhouse that was built by a garden volunteer for his granddaughters.
The Herb Garden – A large variety of culinary plants grow in this garden, and visitors are encouraged to taste the herbs and take samples home.
The Labyrinth – This space is a carefully designed walking path that visitors can use for meditation and reflection.
Recently, the gardens have grown into something even more special. Rainbow Garden and Sculpture Walk is one of the few sculpture gardens with commissioned artists in North Dakota. Better yet, most of the artists are from North Dakota or Minnesota.
If the gardens and sculptures haven't already convinced you to visit this colorful oasis, you might want to visit on June 14 and 15 for the "Art in the Garden Family Festival" and tent party.
"The Garden of Earthly Delights"tent party will take place on June 14 from 6 to 10 p.m. For $10, guests can enjoy silent and live auctions, live music, hors d'oeuvres, sweets and beverages. There will also be a cash bar with wine and beer.
On Saturday, June 15, the festival will take place from 9 a.m. to 5 p.m. and admission is free. The garden will be lined with booths offering a wide variety of garden art. There will also be live music, food, adult workshops, art demonstrations and activities for all ages. For more details visit www.rainbowgardenmayville.com.
And if all of the above still hasn't motivated you to visit and support this beautiful, art-filled space, here's a secret: if you've ever tried geocaching or would like to start, Rainbow Garden and Sculpture walk has something in store for you. Exactly where? You'll just have to visit and find out.
IF YOU GO:
WHAT: Art in the Garden Family Festival
WHERE: Rainbow Garden and Sculpture Walk, 367 3rd Street SW, Mayville, N.D.
WHEN: Fri, June 14, 6-10 p.m. (tent party)
Sat, June 15, 9-5 p.m. (main festival)
INFO: The tent party is $10 and the festival is free.