​North Dakota history comes to life in new musical
by Paige Johnson | .(JavaScript must be enabled to view this email address) | Theatre | June 21st, 2017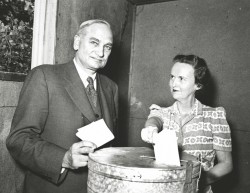 Author, professor, historian and now playwright: Dr. Charlie Barber has taken his love of history to the stage with his new musical, "No Backseat Driver."
Barber's play is the story of two North Dakota heroes: "Wild Bill" Langer and his wife, Lydia Cady Langer.
"I've been researching Bill Langer since 1983," said Barber. "He was wild in personality, but he cared about the underdogs. I'm not interested in writing about characters who aren't progressive. They must be real.
"As a teacher and someone who's been in theatre, I know this is a vehicle and worth singing about. The idea you could do this is not so strange. I'm aware of a musical's power."
William "Wild Bill" Langer was a North Dakota politician, serving as governor for two terms and in the U.S. Senate. His scandals resulted in him being removed from office and gave him a wild reputation.
This is the first and only musical Barber's ever written. He was clear to say that writing was easy, the tunes were easy, but when it came to creating the music itself, Barber said that was the hardest part of the process.
Barber enlisted Andrew Miller, a published and accomplished religious music composer. "I challenged him to try different musical forms," Barber said.
The musical integrates everything from barber shop to ragtime, swing, polka, two-step and boogey woogey. The musical itself isn't necessarily one genre or the other: "You will laugh and you will cry. You'll be touched," Barber explained.
"You will think democracy is still worth fighting for. My intention was that it's still worth believing in."
So far, the response has been very positive: with wonderful music and learning about some North Dakota history. Yet after Bismarck's performances, and performances in Fargo, Barber said he doesn't know where "No Backseat Driver" will go.
"It takes money," he said simply. "I had a grant from the North Dakota Humanities Council, but it can't go to a wider audience if it's not funded. It can be easily undertaken and could, and should, be done. I think it should be carried around to young kids. Music can be a wonderful teaching tool."
The first show was Monday, June 5. Barber said it's impossible to explain exactly what he's feeling. "It's like drinking water from a fire hose," he said.
"No Backseat Driver" will be coming to Fargo on Sunday, June 25 at Dawson Hall in Bonanzaville in West Fargo. The first show will be at 3:00 PM. Following performances will be Monday, June 26 and Tuesday, June 27 at 7:30 PM.
The following week, another three performances will be hosted on Sunday, July 2 and Monday, July 3 and Tuesday, July 4. Times are the same as the above performances.
Following the July 2nd show, Barber will be hosting a post-performance discussion.
IF YOU GO
"No Backseat Driver: A Historical Musical"
June 25 – July 4, times vary
Dawson Hall, Bonanzaville, West Fargo
Tickets: $10 per person