​For the love of wine and miniature pigs
by Nikki Berglund | .(JavaScript must be enabled to view this email address) | All About Food | January 21st, 2016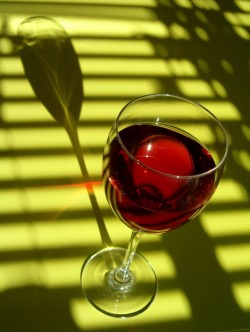 What really helps me sort through the good, bad and ugly sides of the wine business is my love of an entertaining and informative wine story. I would venture to say that as a person who gravitates toward the unique and esoteric wines for both my restaurant and retail needs, it has become one of the most important tools in my constant search for really good wine. Not unlike food, you can tell a lot about a wine when you know the story behind it. A detailed narrative provides knowledge of the people, places and processes and in turn can help one form a fairly accurate opinion of the ethics and love it took to make that wine.I've been slinging wine for many years now and have been drinking wine for longer than that. The longer I have been in the business, the more complicated it has gotten. Sometimes it is complicated in a good way, like when I taste some out of this world wine made out of a crazy grape varietal I have never heard of. But sometimes it gets complicated in a bad way, when there is just so much crap out there that everything starts to taste the same and wine leans more toward a cheesy sales pitch than any sort of wine epiphany. Let's face it: for many, wine is just a business.
Yealands Family Vineyards, a family-owned New Zealand winery, goes down as one of my favorite wine stories. The wines themselves, predominantly moderately priced Sauvignon Blancs and Pinot Noirs, are really special and are some of the best-selling choices on my wine list. But the story behind these wines is what makes them stand out. Both personally and professionally, these are the types of wines that are true treasures and the most sought after by those of us who are passionate about wine. My first delicious sips of these wines definitely helped pique my interest, but it was the story of a pig that really sealed the deal for me.
When you first learn that Yealands is the largest single vineyard in New Zealand, it is easy to get a little suspicious. As with the food business, often times bigger does not mean better when it comes to wine producing. That is until you hear about Peter Yealand, a forward-thinking individual who is on my bucket list of people I want to meet. It was back on Aug. 8, 2008, that Peter shared his dream of becoming the world's most sustainable wine producer, a man who believed that to be one with nature was imperative to the making of beautiful wines. Straight from Yealands promotional materials, they describe their vineyard like this:
"Whilst the largest flock of miniature Baby Doll sheep in New Zealand graze their way between our vine rows, in amongst the many carefully designed wetlands, where native wildlife quietly assists with uninvited guests. Learning from the cycle of the seasons, we're constantly finding new ways to make the most of what we have. Returning natural by-products to the earth is not only the perfect means of nourishing our vines, but also a golden opportunity to work with leading researchers in pioneering biochar technology — transforming carbon into a positive, sustainability subterranean force."
There are also the sweetest little Kunekune pigs which are my very favorite characters in this whole story. Seriously, Google these miniature pigs and you will see what I mean. Both the sheep and the pigs eat the grass, which cuts down on the use of mowers and reduces the use of fossil fuels and carbon emissions. Add to that their normal bodily functions and you've got yourself some natural fertilizer. Both of these animals are considered endangered species, and Yealands has its own breeding programs to keep these and other species thriving. Between the pigs and the chickens who also make their home there Yealands also has its own system of pest control, which further cuts down on any sort of chemicals that could make their way into your wine.
Another thing I love about a good story is its tendency to get people interested in wine. I can rattle off a bunch of technical information about the wine processes and the techniques used, but for many this wouldn't be enough to get them passionate about this particular winery or help it to stand apart from other New Zealand wines. I confess, this stuff is interesting to me as a wine geek, but as a consumer, wouldn't you rather hear about a dude who plays classical music to his vines during the day and uses biodiesel derived from recycled cooking fat for his vineyard machinery?
A few weeks ago, I first talked about the Slow Food Movement. There is also a Slow Wine Movement, which reminds us that "wine is an agricultural product, just like any of the foods we eat, and has an impact on the lives of the people who produce it, as well as on the environment — through pesticides, herbicides and excessive water consumption which are all commonplace in conventional wine production." We spend more and more time finding out where our food comes from. Isn't it time we also start paying more attention to what goes into the wine we drink? Currently this portion of the organization only focuses on Italian wine, the birthplace of Slow Foods International. There is no doubt in my mind that it will not be long before it expands beyond Europe. With Peter's dedication to the land and to sustainable winegrowing, he personifies what this movement is all about, and I have no doubt that Yealands will be one of the first to make the cut.
[Editor's Note: Nikki Berglund is the owner of Luna Fargo and also Wine Manager and third generation operator of Bernie's Wines and Liquors. She recently passed her Level One Certified Sommelier Training and is currently helping to start the first North Dakota chapter of Slow Foods International.]