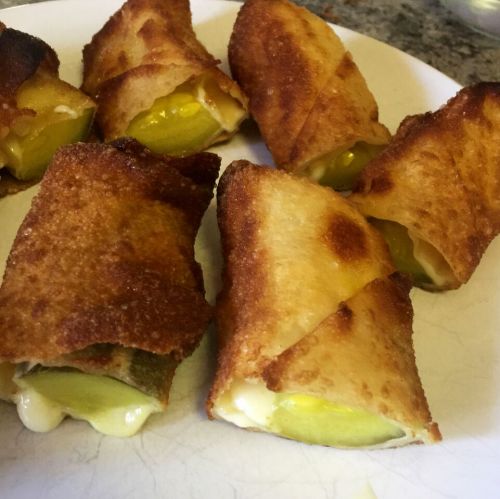 By Ben Myhre
benmyhre35@gmail.com
If you haven't had the fried pickles from Toasted Frog, you are really missing out on something special. They are like no other fried pickle I have eaten before. If pickles can be magical, I am pretty sure that Peter Pan made a special stop to sprinkle some pixie dust on the Toasted Frog fryers. They even were recently featured on The Cooking Channel's show "The Best Thing I Ever Ate." Today, I am going to give you a copycat version of the Toasted Frog fried pickles that you can make at home.
Are These Pickles Better Than The Toasted Frog?
No, these pickles are not better. Make sure to get down to the Toasted Frog to eat some pickles, have a pizza, or checkout whatever marvelous thing they have on special. The recipe in this article, however, is a great way to make fried pickles for your family or for when you don't want to go out to eat.
I made several attempts to get these pickles as close as possible to the original and I think we come close. While we cook the pickles ourselves, I did decide to pick up some Chipotle Ranch from the grocery store to dip these guys in. This is a great dipping sauce for these pickles that stays somewhat true to what they offer on site.
Fried Pickles Are Easy
You think it might be hard to make something that tastes so good, but it isn't. You just need a way to deep fat fry things, an oven, and a few ingredients. How many ingredients? Four. The recipe only calls for pickle spears, egg roll wrappers, havarti cheese, and a little bit of water. The fried pickles do get cooked twice. I cook them once in a fryer to give them that crunchy egg roll texture, but then I add them to the oven for a few minutes to help melt all that beautiful cheese and warm the pickle inside.
Be Careful When You Deep Fat Fry Things
Whether you have a Fry Daddy or you fry in a deep pot like I do, make sure to use the utmost precaution when cooking with that much hot oil. Peter Pan might bring some magic to the Toasted Frog, but he isn't going to help at home if you start a grease fire. So, once again, cook with caution and care.
Recipe
Ingredients
4 Eggroll Wrappers
4 Pickle Spears
4 Ounces Havarti Cheese, cut into pieces the length of the pickles
Water, for the edges of the egg roll wrappers
Oil, for frying
Instructions
Dry Pickles. Dry with paper towels and allow to sit out for a few minutes.
Preheat oven to 425F.
Heat oil on stovetop.
Place one eggroll wrapper on a flat surface so it is a diamond shape from your position
Place pickle on wrapper.
Place cheese in front of pickle.
Lightly wet all edges of eggroll.
Fold the corner closest to you over pickle.
Fold two outer corners in and tightly roll.
Set aside and repeat for other 3 pickles.
Once oil is heated, gently place 2 pickles in fryer for one minute or until eggroll is golden brown.
Place on paper towel covered plate to remove excess oil.
Repeat steps 11 and 12 for other two pickles.
Place all four pickles on baking sheet and put in oven for 5 minutes.
Remove, cut in half, and serve with sauce of choice.
[Editor's note: Ben is the mind and the tastebuds behind https://ramshacklepantry.com/]