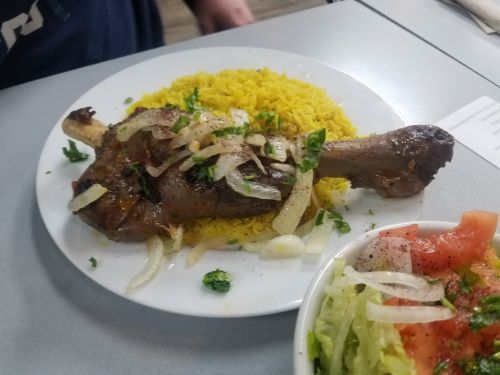 Fargo has a new Mediterranean restaurant downtown and it is worth your while to head on over and check it out. Ishtar Mediterranean Cuisine opened at the beginning of the year and are serving up some delicious dishes, including Middle Eastern appetizers, gyros, tikkas, kababs, and desserts.
Located at 68 N. Broadway, Ishtar Mediterranean Cuisine blends in with the business of downtown, but when my wife and I walked inside for our first experience there this week, we could smell the difference. The ambiance is casual, and the staff was very friendly. They engaged with every customer on a personal level and added a family restaurant feel.
We placed our order at the counter and seated ourselves at one of the tables with a booth on one side and a chair on the other.
While you wait for your order, you can take in music videos from Iraqi artists on a television mounted on the wall next to the counter. The music, performed in Arabic, is contemporary, but mellow and just enough to add entertainment without drowning out your conversation.
The menu at Ishtar Mediterranean Cuisine offers a full appetizer section with World Famous Hummus, Dolma, and Kuupa to name a few. My wife and I ordered the Samosas. They are three pastry pockets stuffed with either veggies, ground beef, or ground chicken. We went with the ground beef.
They were fantastic. The seasoning in the ground beef was mild, but packed a lot of flavor. It was fried in a crunchy pastry that complimented the ground beef to make a delicious combination.
My wife ordered from the Sandwiches and Wraps section. It offers chicken or beef Schwarma, Ground Beef Kabob, lamb or chicken Tikka, Falafel, Vegetarian Sandwich, Mediterranean Burger, Beef Hot Dog, or Greek Gyro. She elected to go with the chicken Greek Gyro and made it a combo, which added fries and a soda.
I ordered from the two-page entrée section. The entrée options were Kababs, Schwarma, Fish, Chicken, Gyro, Lamb Shank, Lentil Rice, Dolma, Falafel, and a Mixed Platter. I ordered the Lamb Shank. The entrée menu comes with your choice of rice, hummus, or fries. I went with the rice.
My lamb was mild, but had a good flavor. It came on the bone and was tender enough to cut with a fork. The rice was served with seasoning and cooked onions. I can eat a lot, but I wasn't able to finish the dish. The portion of lamb with the generous helping of rice filled me up fast, but stealing bites of my wife's chicken Gyro probably didn't help my portion control.
The Gyro was seasoned with spices that added a ton of flavor and just enough kick to notice, but not overpower. The chicken was tender. There was a combination of lettuce, tomato, cucumber pickles, and a tahini sauce mixed in.
Though we didn't order from the Salads section, Ishtar Mediterranean Cuisine offers five salad options. There is also a Kids Meals section that offers a cheeseburger, hot dog, chicken strips, or gyro option for the little ones. All the kids' meals come with fries and a drink.
Speaking of drinks, all the beverages are non-alcoholic. You have a choice between hot tea, hot mint tea, Turkish coffee, mango juice, Guava, Shaneineh Yogurt Drink, and Coke and Pepsi options.
There are also several dessert options behind the counter to grab and enjoy at the restaurant or take home for later.
Overall, my wife and I enjoyed our experience at Ishtar Mediterranean Cuisine. I would recommend this restaurant for a date or family night. We plan to go back again very soon.