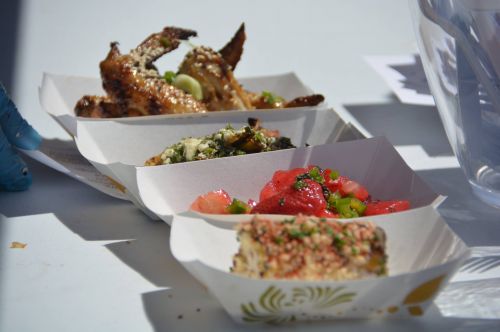 A few weeks ago, I received an email from my dear friends and amazing restauranteurs Nikki Berglund and Ryan Nitschke. If the names sound familiar it's because they are the dynamic duo behind the highly successful Luna restaurant on South University. The email was asking if I was interested in participating in a Kickstarter for their new venture Sol Ave Kitchen. To be honest I wasn't that familiar with Kickstarter but a new venture by these two piqued my interest. But first I wanted to get the low down on Kickstarter.
Kickstarter is a very cool concept and one that restauranteurs in major cities are using to help take the sting out of rising real estate and other costs when opening new ventures. The big difference between Go Fund Me and Kickstarter is that if Kickstarter doesn't reach its goal within a specified timeline none of the pledges are activated with means no money changes hands. Unlike Go Fund Me where any money pledged goes to the recipient regardless if the goal is met. Also, Sol Ave Kitchen's fundraiser pledges/donations have a value. Depending on the amount you pledge you get something in return, say dinner for ten as an example. It's all laid on out on their page. Just to clarify if you pledge you are not a partner per se, just a loyal supporter for great food and service in your community.
Now that I had that cleared up, I sat down with Nikki and over a glass of wine talked about the restaurant. We started with the name, Sol Ave Kitchen. As they already had Luna (the moon) having a sunny project just felt right hence Sol (the sun). Located right next to Junkyard Brewery in Moorhead, in the area with the garage doors, it will be bright and lively. Which is exactly the look they are going for. As Nikki puts it "fun and funky" and in Ryan's words "with a '90's hip hop vibe". So, you just know this place is going to have a heartbeat all its own.
With an open kitchen looking out onto the casual, small 50 seat café the food will be "globally inspired street food with a Midwest twist". Knowing Ryan, you can bet the integrity of the food will be nothing less than that of fine dining, but with counter service, you can carry it out or walk over and grab a seat at Junkyard and have an inspired beer as well. Ryan's former Sous Chef from Luna, Shea Syverson will be heading up the kitchen which puts in the kitchen in good hands.
With a target opening day of April 1st, this could be the best April Fool Day to date. I am looking forward to tasty bites and a cold beer on their patio once the weather warms up and until then you can find me at Luna.
Sol Ave. Kitchen
1416 1st Ave N
Moorhead MN
To donate: https://tinyurl.com/yb4flvwf