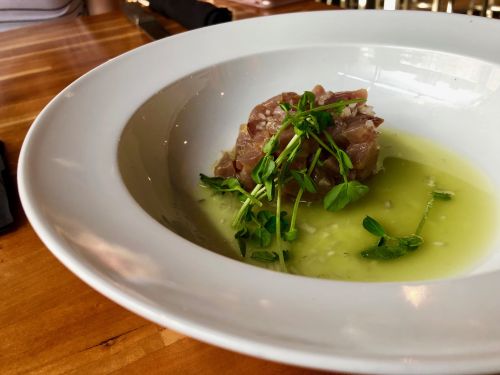 By Seng Phengdouangdeth
sengphengdouangdeth@gmail.com
As things are finally starting to warm up in the region, it's time to kick that delivery habit you've developed all winter long and take your main squeeze out somewhere with some real character.
Now, listen up before you get tangled in the game we all know too well as, "I dunno, where do you want to go?" I'll just choose the place for you to dine tonight. How about The Toasted Frog?
Located in the heart of downtown Fargo, just across the street from the city's iconic and historic Fargo Theatre, The Toasted Frog offers an atmosphere that can be enjoyed by those with class and culture thanks to the rustic décor and urban flair. Come in and take a seat by the kitchen to watch the staff at work, have a conversation at the bar, or relax as you watch the bustle of downtown nightlife at one of The Toasted Frog's enormous picture windows.
Established in 2014 as one of three locations in North Dakota, this Grand Forks-based chain has something for everyone.
Though the restaurant doesn't provide a sunny rooftop or patio for its patrons to enjoy, one can still beat the heat with the summer seating in the restaurant's beautiful alleyway.
Though I could go on about the establishment itself, the real magic lies on what The Toasted Frog delivers in every glass and on every plate. The true integrity of a chef comes from the spark of creativity and care executed in each creation along with the delivery toward a variety of pallets.
It's really no wonder why the culinary masterminds at The Toasted Frog integrate new items and constantly introduce new specials, as fresh ingredients are always a must in a great dish. However, it's the kitchen's ability to create something new and unique that will excite guests and capture their hearts.
I recommend stopping and starting your night off with one of the restaurant's hand-crafted cocktails. Like their house specials, the bartenders are always coming up with moving and provocative selections for their patrons to taste and enjoy.
Check out one of their recent creations, "Strawberry Fields." Made with a harmonic blend of Hendrick's Premium Scottish Gin and Green Chartreuse, Strawberry Fields is a cocktail worthy of summer. Add a splash of lemon juice, soda water, and The Toasted Frog's very own housemade strawberry syrup and you've got a cool, crisp, and refreshing drink that will lull you into a serene state of relaxation.
I recently had the pleasure of enjoying The Toasted Frog's take on a YellowFin Tuna Tartare. Though the classic tartare is a dish composed using a red meat, in most cases beef, it isn't uncommon to find this dish remixed into versions that spotlight different kinds of fish.
The Toasted Frog's execution of this dish playfully accents the delicate tastes and textures of YellowFin Tuna with beautiful hints of flavor that don't overpower but simply enhance the flavor. From start to finish, I enjoyed every bright and brilliant bite I had the opportunity to taste.
Gently elevated by a subtle but sweet and spicy habanero peach vinaigrette, the tartare offered an enjoyable heat while contrasting with a very cool cucumber gazpacho. Perfection like this could only be topped off as it was with the light taste provided by a side of fresh pea shoots.
The specials at The Toasted Frog are ever-changing, so the next time you're taking a drive down Broadway, stop in and see what's cooking.
Hours of operation: Lunch 11 a.m. -4 p.m. Monday-SaturdayDinner 4 p.m.-11 p.m. (kitchen hours) Monday-Thursday4pm-midnight (kitchen hours) Friday, SaturdayAge allowed: 21+ after 3:30 p.m. daily