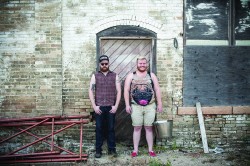 By April Knutson
On an unbearably hot and humid Saturday afternoon I strolled into Square One Rental Kitchen where Milkhaus creators Chris Wilkes and Seth Locken worked diligently at placing labels across hundreds of plastic containers. In the neatly organized freezer these plastic containers create a treasure trove of pastel-colored pushed pops filled with innovative and inventive flavors.
Milkhaus first appeared in grocery stores in New Town, N.D. after Locken first tried mixing garden fresh ingredients with ice cream when he received a Cuisinart ice cream maker for his birthday.
While Locken experiment in New Town, Wilkes attended culinary school while living with his grandparents in Minnesota's iron range. Separated by distance, these self-described "food purists" brainstormed over the phone to mix and match natural ingredients.
"Food should expire at some point," Locken said.
"You shouldn't have a chicken that you can leave out on the counter for a week and still be able to eat it," Wilkes added.
In February, Locken and Wilkes traveled to Fargo to sell Milkhaus at Unglued Craft Fest. After the event, Locken received so much positive feedback that he decided to ask Wilkes to move back to Fargo with him to expand their ice cream business.
Since then, Wilkes and Locken have been committed to creating savory-but-daring ice cream flavors, including dark chocolate-lavender, hickory-smoked vanilla, pistachio, brown-sugar bacon, rhubarb and salted caramel.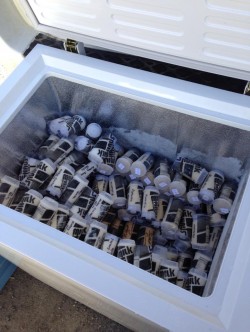 "When we make a new flavor, it has to be at the beginning of the week, because it has to get sent to a state lab in Bismarck for it to be approved before we release it," Locken said.
It usually takes about a week to release a new flavor.
"For the new flavor to be legal, it has to have absolutely no coliforms," Wilkes said.
Locken and Wilkes use natural, locally sourced ingredients in their flavors, which extends the time between invention and public release.
"Since we add additional, natural ingredients we have to pasteurized it after we make the base," Wilkes said.
Milkhaus uses Cass Clay milk and produce from Kragnes Farms.
Locken and Wilkes are working to add flavors such as Young Blood coffee, hibiscus-clove-lime, basil and sweet corn.
"Right now, people are usually a little freaked out about the brown-sugar bacon flavor, but they usually are pretty happy after they try it," Locken said.
Their newest flavor, green tea ginger, has a refreshing chai-tea-like taste with a creamy, yet light and satisfying finish.
Milkhaus produces eight flavors that are available at the Red Raven Espresso Parlor, both Dunn Bros Coffee locations, Blackbird Woodfire and Atomic Coffee. In addition, the Milkhaus tricycle can be found around the downtown Fargo area on a sunny afternoon.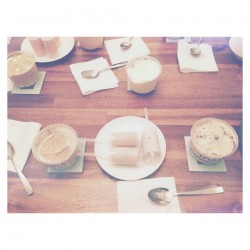 "A new thing that has transpired is giving free ice cream to the escorts at the Red River Women's Clinic," Wilkes said.
Milkhaus is a two-man operation with a revolving door of supportive friends and family, including Jackie Marnion, Nate Dickmeyer, Jacob Hopkins, Ryan Hermes, John Rian, Grace Olson, Iselin Ihrstradt, Andrew Logan, and Beth and Sam Wilkes.
"In the next year, we are hoping to get into hornbachers grocery store, so a wider audience can experience Milkhaus," Locken said. Eventually, Milkhaus hopes to sell their product in the Twin Cities area and possibly opening up a scoop shop in the Fargo area.
You Should Know:
Milkhaus ice cream
Available at Red Raven, Dunn Brothers, Blackbird Woodfire and Atomic Coffee
facebook.com/Milkhauscream