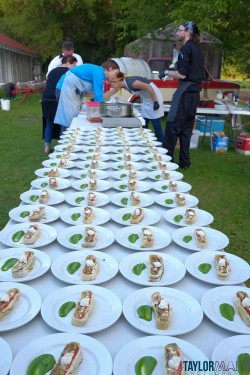 By Abby Gold
goldabby@gmail.com
Dusk at Probstfield Farm in North Moorhead brings forth a timeless feeling of a slower life, one that accompanies the rhythms of family and hard work. Imagine the bustling farm, chickens in the yard, the kitchen garden close to the house, and peonies lining the driveway. When Randolph and Catherine Probstfield settled in North Moorhead and built their log cabin in 1868, they were one of the first European farming families in the Red River Valley.
At the third annual Probstfield Farm Sunday Supper on September 11, the Probstfield Farm Living History Foundation celebrates the ongoing agricultural heritage of the Red River Valley. Nestled in some of the most fertile land in the world, activities on Probstfield Farm such as Legacy Gardens, the Probstfield Organic Community Garden, the Heirloom Pumpkin and Squash U-Pick Patch, the Two Cylinder Tractor Club, and bow hunting on the land restores some of the natural wonder that farm life represents and takes advantage of the fertile soil. The Sunday Supper on the Farm is a celebration of the Probstfield family, their legacy, and the land.
Each year the Sunday Supper features several local chefs who volunteer their time to cook delicious food with ingredients grown by the farm's Legacy Gardens. The table is set with flowers grown on the farm, food arrives at the tables in bowls or platters and is passed family style. The tables are situated in the grassy farmyard in front of the old Probstfield house. This year, seven chefs will cook several courses. Before the meal, people can sit by the fire, listen to live bluegrass, or mingle in the farmyard sipping local beer and wine.
The Sunday Supper brings people together in a memorable experience to celebrate the Red River Valley's farming heritage and to raise money to restore the Probstfield house, which happens to be one of the oldest (if not the oldest) standing structure in the Valley. Tickets for the event can be purchased at www.probstfieldfarm.org.
IF YOU GO
Sunday Supper at Probstfield Farm
Sunday, September 11, 4-9:30pm
4626 Oakport St N, Oakport, Minn.
Chefs from Nichole's Fine Pastries, Toasted Frog, Mezzaluna, Mosaic, Rustica, Boiler Room, Barbacoa, Bernbaum's, and Blackbird. Beverages, entertainment, and decorations by Drekker, Proof, White House, Knotty Pine Pickers, and Live Wire, all in beautiful surroundings. $86.