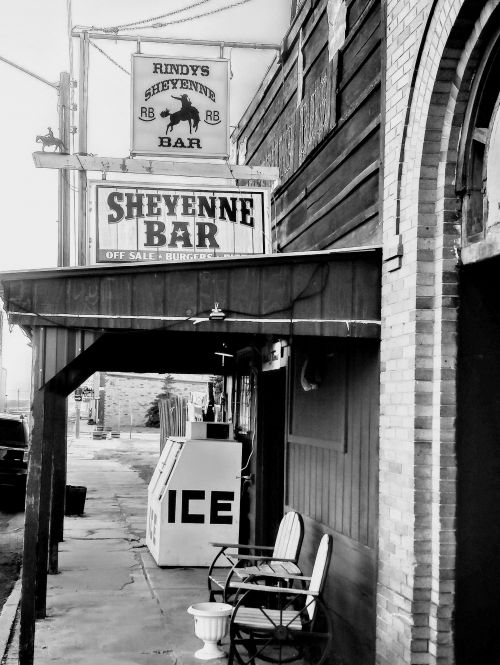 I spend a lot of time roaming the prairie in search of finding hot spots off the beaten path. Needless to say, one can become a bit parched by spending so much time on the dusty trail. Sometimes you just need to stop for a bite to eat and a sasparilla.
My favorite watering holes have as much character within the walls as they do on the bar stools. As the weather perks up and the trail thaws it's the perfect time to take a day trip. Here are some of our recommendations for a country cruise across Dakota. If you choose to drink, be sure to grab a designated driver or have a good trail horse so you can hit the road responsibly.
The Sand Dune Saloon, McLeod ND
Mcleod is approximately an hour southwest of Fargo. With a population of less than 30, this town has a lot of heart and a lot of characters. What other bar can you drive up to and find a horse tied up at the hitching post outside? With a rustic atmosphere and a great group of regulars, this proved to be one of my favorite spots to grab a beer -- in fact, they only serve beer.
If you're feeling a bit peckish, be sure to check out the Silver Prairie Saloon, located just across the street. Their menu and hours are posted on their Facebook page. While you're there, belly up to the bar via one of their saddle stools. Located in the sandhills, there are beautiful trails and camping areas nearby. There's also a notable rodeo and tractor trek that goes on during the summer.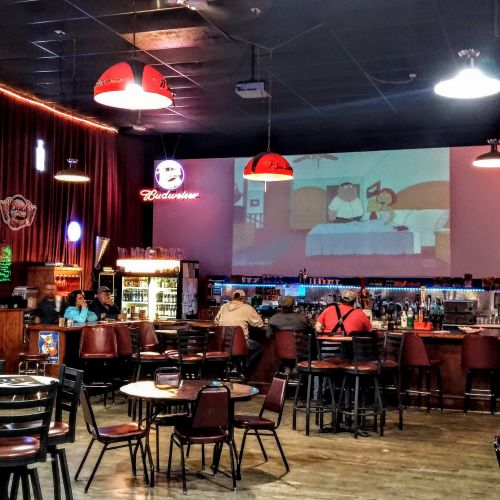 The Big Screen Bar, Wishek ND
Wishek is a bit of a hike from Fargo, close to three hours to be precise, but a cruise through German Russia country is worth it for the Red Eye (also known as "wedding whiskey"). Be sure to bring a cooler because there's a reason people talk about Wishek sausage statewide--and don't forget the kuchen! While you're there, be sure to stop at The Big Screen Bar. It looks unassuming from the outside but once you step inside you'll see how the bar got its name! Located in a former movie hall, the big screen is still in use via digital projector, whether a big game is on or a half dozen guys are sitting around watching "Family Guy." The Big Screen also has a grill and occasionally hosts live entertainment. Wishek is just the tip of German Russia country. If you're exploring the backroads, say hi to our pals in Fredonia and Kulm too.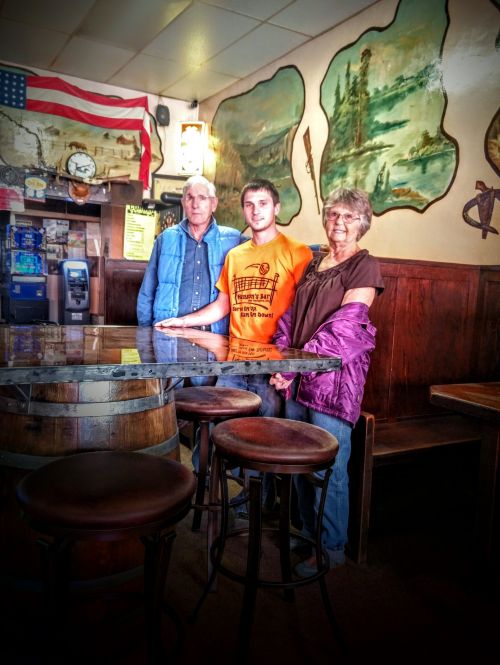 Hanson's Bar, New Rockford ND
New Rockford is about 2½ hours from Fargo on 281 N, it has a vibrant theatre community -- check out what's going on at the Dakota Prairie Regional Center for the Arts (DPRCA) -- a great bakery, and charming cafes. One of the first things you'll notice upon walking into Hanson's are the cowboy murals painted throughout the bar, most of which were painted by Cowboy Joe Breckenridge, who was also known as "the fastest painter in the west" at the Chicago World's Fair in 1933. It's family-owned since its inception in 1936, the year North Dakota legalized hard liquor. The owners also have a great collection of antiques that serve as a nod to the town's local history, and if you visit in the fall you may catch New Rockford's annual threshing bee!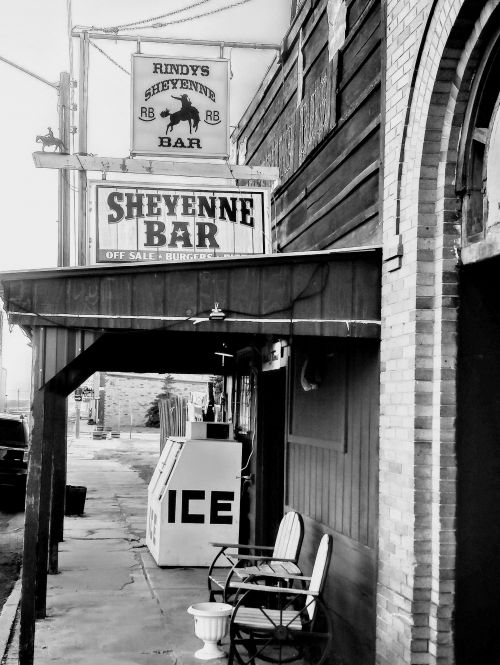 Sheyenne Bar, Sheyenne ND
Sheyenne Bar is just a hair north of New Rockford but is worth checking out as well. Housed in a former livery stable, it has been a staple since 1936. Sheyenne has a charm all by itself and looks as if it could be a western movie set. It's situated right on HWY 281 N. Besides great company, Sheyenne is known for their annual rodeo and Fourth of July celebrations.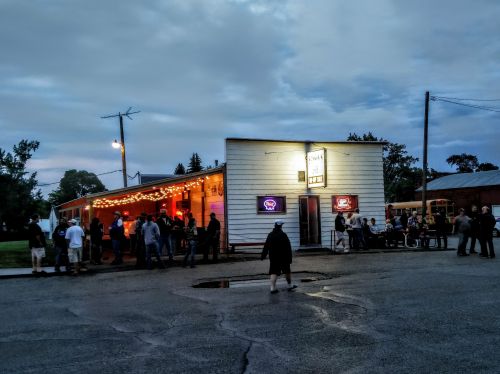 Hanson's Bar, Robinson ND
Hanson's Bar in Robinson is about 2½ hours from Fargo along Highway 36. The drive to Robinson itself is worth the whiskey, lined with rolling prairiescapes and pothole sloughs. It's a birders' paradise, only 20 miles from Chase Lake Wildlife refuge and a hop skip and a jump away from Round Lake, Frettim Lake, Lake Williams, and so the list goes on. It's the home of CenterFest and also known as the "oldest bar in North Dakota." There's also a bumper pool table in the bar and a killer stack of vinyl just waiting to be played. If you're a musician there's also a space available to jam. If you come to town early enough, grab a bowl of knoephla soup at Carol's Kitchen. There's an active pickup pull community and there's an annual tractor trek too. There are reasons some of the locals refer to Robinson as "the paradise city!"
Boomer's Corner Keg, Valley City ND
Located in the city of bridges and just an hour from Fargo, Boomer's Corner Keg is worth checking out. Boomer himself is the stuff legends are made of. While you're there be sure to grab an "A" beer. The frosty mugs are hand-etched by Boomer himself. While you're there be sure to check out the murals, which are also Boomer's handiwork.
It's just a hop skip and a jump away from the original Pizza Corner restaurant if you're hungry. While you're there check out the Labor Club if you're a music lover, Dutton's Parlor if you want a cup of coffee or a scoop of ice cream, and the Viking Cafe for a classic old school diner feel.
If you have extra time, be sure to say hi to our pal Wes at the Barnes County Museum! Rally in the Valley is the event of the summer and that takes place Father's Day weekend also -- and stick around for the hillclimb that Sunday.