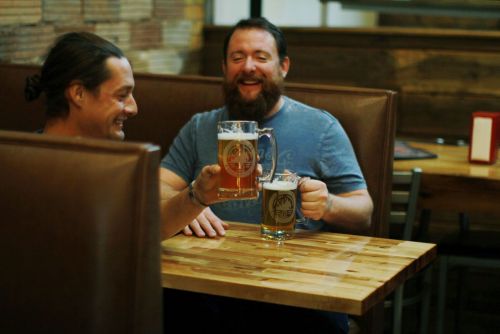 After three years Jon Beyer aka "Jonny B" has become the face and the beard behind Jonny B's Brickhouse in Jamestown North Dakota. Besides the largest selection of craft beers between here and Bismarck, wood-fired pizzas and tasty burgers, he's found another way to make dough via frozen pizzas and now he's bringing his 'za to Fargo.
High Plains Reader: What prompted you to get into the pizza business?
Jon: I've been making pizza at home my entire life and perfecting my dough recipe. I always wanted to be a musician but have ended up supporting my music habit by working in restaurants my whole life. I figured if I'm gonna work in a restaurant it might as well be an awesome one and pizza has always been a passion of mine!
HPR: When and why did you get into the frozen pizza business?
Jon: We started doing frozen pizzas about a year ago just to use up some downtime with my cooks when it is slow in the afternoons. They took off pretty well so I started getting them inspected and selling them to local bars around the area. Demand kept growing so at the end of December last year we finally moved production out of the restaurant and into our new facility.
HPR: Pizza Dave himself sold you your refrigerated truck. From pizza man to pizza man, did he offer any advice with it?
Jon: It is true my pizza delivery truck was purchased from what used to be my favorite pizza company in Valley City. Dave wasn't able to say much but he did tell me one thing. He told me that he always believed that if you make a quality product, charge what you need and people will see that quality and understand what they are paying for.
HPR: Anyone in Jamestown knows you have an eye for community, especially in terms of carrying on the Book-it torch once Pizza Hut closed a few years back. Growing up around Jamestown and Valley City, I remember Pizza Corner offering up fundraising opportunities. Do you do anything like that?
Jon: Yes. If anyone would like more information on fundraiser opportunities with Jonny B's they can go to INeedAFundraiser.com - Fundraising opportunity for schools, churches, clubs and more!
We did carry the Book-it torch but we came up with a better name, "Jonny B's Book Buddies." There is also an added bonus--the class that does the best at meeting their reading goals for each school gets to come to the restaurant and learn how to throw pizza dough with Jonny B. It's pretty exciting for the kiddos!
HPR: You've recently broken into the Fargo bar market with your pizzas. You started selling frozen pizzas in store and then branched out to the smaller towns around Jamestown. Can you tell us a bit about that?
Jon: Originally when we first started doing pizzas under inspection we only sold to small-town bars outside of Jamestown. The demand grew so much that I actually closed the restaurant on Mondays just to produce our frozen pizzas. People kept calling from every small town begging me to bring our pizzas to them. One lady told me people were actually leaving her bar and driving to a nearby town just to get our pizzas!
HPR: How soon was it before your frozen pizza operation outgrew production in your restaurant and how many pizzas did you produce when you started as to how many are produced now?
Jon: When we started producing pizzas in the restaurant I was only able to make between 400 to 600 pizzas a week. It took us about six months to outgrow that. We actually needed it sooner but these things take time so we held back on selling for quite a while. At our new facility, our goal is 1000 pizzas per day and we currently produce four days a week.
HPR: You recently expanded your operation and now have a designated facility for pizza production. Can you tell us a bit about that?
Jon: We had to keep up with demand. The new facility made it so we were finally able to produce enough to be able to meet demand and to sell to grocery stores. It has been a struggle getting into the bigger stores in Fargo and Bismarck. When your biggest competitor does the layout for the pizza isle they tend to try and make things tough you but I am confident the store managers will see the demand for our product and make the right decision. Shout out to Dan's Supermarkets in Bismark for giving us a chance!! We met with all of their managers and they loved the pizza so they took a chance on us!
HPR: I remember you saying something about experiencing some level of difficulty in securing enough inspectors, can you tell us a bit about that?
Jon: Inspectors have a tough job and under federal guidelines, any product with more than 1% meat on it has to be inspected. Even though we are using cooked pizza toppings we are inspected the same way a meat packing plant would be. North Dakota is one of only three states that is allowed to have its own inspection program so our department of agriculture does the inspections. Budgets are tough but during our recent trip to the capitol for the Pride of Dakota show, the right people saw our product and instantly did what needed to be done to meet the demand!
HPR: What's next for Jonny B?
Jon: Hopefully a vacation! That and we are working on our interstate shipping program so we would be able to cross state lines and sell to Moorhead and Aberdeen. It's a lengthy process involving the federal government and can take upwards of six months to complete.