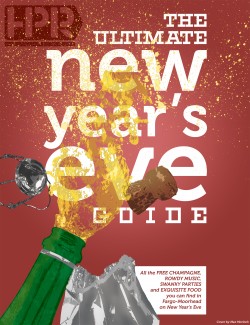 Plenty of free champagne, rowdy music, swanky parties and exquisite food will be going around this Wednesday, December 31. Whether you want to treat yourself to a fancy meal, party along with your favorite rock band or play dress up, we've done our best to give you the most comprehensive guide to all things New Year's Eve in the Fargo-Moorhead area.
Highlighted are some of the folks behind the most above-and-beyond dinners and/or parties in town. Don't hesitate to book reservations before many of these places sell out.
***We hope to continue with similar features into the new year, so keep on the lookout for profiles on any amazing chefs, restaurant managers and movers-and-shakers we've missed this time around.
THE AQUARIUM
Live music featuring stoner metal kings Egypt, Smashing Pumpkins tribute Silverf*ck, Duluth one man band Jaw Knee Vee and new group Still. Free champagne and noisemakers at midnight.
BAR NINE
Live music featuring rock group The Ciro and Topher Show.
BEEFSTEAK CLUB
Along with Beefsteak's regular service will be a five-course prix fixe dinner featuring dry aged tenderloin, potato chowder, pan seared scallops, salad, dessert and more.
BLARNEY STONE
Free hats, New Year charms and champagne at midnight. Happy hour 9 to close.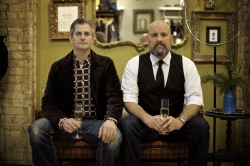 BOERTH'S and D'VINE
This Great Gatsby-themed party is a formal all-you-can-eat-and-drink event. Both Boerth's and D'vine will be open for patrons to roam and mingle with other 1920s-dressed patrons. The pre-prohibition food spread, created by Chef Christian of Montes, will consist of braised short rib bolognese, a bruschetta bar, smoked salmon, deviled eggs, desserts and more. Also included is a champagne toast and ball drop at midnight.
The 'all inclusive' is a big thing for me because I want people to have a good time. That's what it's about ... We've got a beautiful setting, beautiful environment, great decorations, and a lot of caretaking with all the details that just make New Year's Eve a lot more memorable. - Ty Singman, general manager at D'Vine
TICKETS: dvinefargo.com
BORROWED BUCKS ROADHOUSE
DJ and dancing, super cheap drink specials and $100 cash giveaway every hour till midnight.
J.C. CHUMLEYS
Combination of DJ dancing and karaoke. Drink specials all night.
COURTYARD BY MARRIOTT
Live music featuring F-M's most popular country/rock group 32 Below. NYE photobooth, hors d'oeuvres and much more.Reservation required: 218.284.1000
COURTNEY'S COMEDY CLUB
Six national comedians performing including Shane Maus, Steve Gillespie, Chris Knutson and Chris Maddock. Showtimes at 7 p.m. and 10 p.m.
Tickets: courtneyscomedyclub.com
CORK AND CLEAVER
Special NYE menu featuring Alaskan king crab, prime rib, fettuccini alfredo, Hawaiian chicken and much more. Champagne and dessert included with all entrees.
Reservation required: 701.237.6790
DEMPSEYS
Dancing to DJ IP Discotheque. Free champagne at midnight. Party favors.
EMPIRE
Champagne at midnight, super cheap Jägermeister and Windsor specials.
FARGO BREWING COMPANY
Trivia from 7 to 9 p.m. Happy hour from 4 to 6 p.m. $1 off all pints.
HENNESSY'S
Live music featuring classic rock and country group Measures.
HODO LOUNGE
Live music featuring hip-hop band D Mills & The Thrills.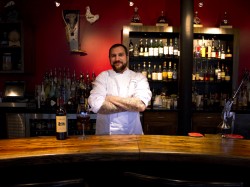 HODO RESTAURANT
The HoDo Restaurant is serving up delectable three and five-course meals, special to New Year's Eve. Especially for holidays and special occasions, Chef Mark Schmidt emphasizes making high-quality, locally sourced food that most everyone can enjoy. His multi-course menu includes everything from braised pork belly to crispy ginger tofu, salmon rillettes to filet mignon.
I really focus on technique, so I like to make approachable food. I like to fit the mold I am supposed to fit in for the area, for the restaurant. It's about having people wanting to come in to try some really great food -- that maybe they had the same dish somewhere else, but it hasn't been prepared at all like the way we do it here. - Mark Schmidt, executive chef at Hotel Donaldson
RESERVATIONS: 701.478.1000
hodoholidays.com
HOLIDAY INN
Dinner buffet featuring London broil, spinach and artichoke stuffed chicken, horseradish whipped potatoes and more. Dancing to Kid Hollywood.
Reservations required: 701.282.2700
HOOLIGANS
Live music featuring country-rock group Contention.
JERRY'S TAVERN
LGBTQ inclusive dance and drag party.
JT's
Live music with country/rock/pop group InFringe. Giveaways. Hors d'oeuvres.
JUNKYARD BREWING COMPANY
Tapping a brand new raspberry stout: "Cooz Juice." Original tap handle giveaway. DJ.
LABBY'S
Prime rib dinner, free champagne at midnight. New Years trivia, apps, party favors, Long Island Tea specials.
LUCKY'S 13
Live music by rock band The Groovetones. Free champagne and party favors at midnight. Special dinner options.
M&J SALOON
Live music featuring rock/country/pop band 24Seven.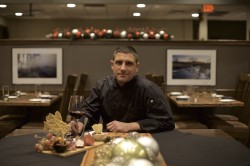 MAXWELLS and MAX LOUNGE
Chef Mike Wald leads the culinary charge at both Maxwells and Max Lounge. While Maxwells will have a six-course NYE dinner, including prawns, bison tenderloin, wild mushroom risotto, tres leches cake and more, Max Lounge will have special drink packages, and oysters to boot, for a more laid-back, classy lounge party. While each location has a slightly different vibe, the food and ambience is consistently good at both spots.
We like to keep a lot of things simple and elegant and yet a little bit on the rustic side, and I'll bring in nice hardwoods and warm colors, and nice lighting and accents, to create that feel and ambience. And then we just try to tie our service and our products and our goods all together to just create one dining experience for our guests. - Mike Wald, executive chef at Maxwells and Max Lounge
RESERVATIONS: 701.277.9463
maxwellsnd.com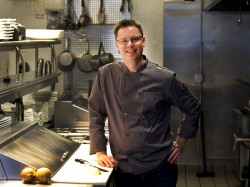 MEZZALUNA
By 9 p.m. on Dec. 31, Mezzaluna's entire restaurant will be reserved for ticket holders of its own New Year's Eve party with live music by The Elaines. According to restaurant manager Michael Howey, "It's the classiest New Years Party in this alley." The menu will consist of lots of freshly flown-in seafood, including a whole poached salmon, oysters and sashimi, as well as grilled lamb chops, pork belly sliders and beef tartar.
The basics come through a lot in our menus. Really just a continued emphasis on flavor, flavor profiles, and understanding how to balance flavors … but in terms of the style of food, we typically start with a classic European foundation and then just throw tweaks in here and there. - Eric Watson, executive chef at Mezzaluna and Mosaic
RESERVATIONS: 701.364.9479
dinemezzaluna.com
MONTE'S
Multi-course meals with entrees consisting of filet mignon, crab stuffed walleye, garlic rice, mushroom and truffle risotto and much more.
Reservation required: 701.526.0149
O'KELLYS
Live music featuring rock/pop/country group Frost Fire.
OLD BROADWAY
Four-course meal consisting of bruschetta, NY strip steak, lobster tail, mashed potatoes, glazed carrots, tres leches and more (OB Grill). Club dancing all night (OB Club).
Reservation required (OB Grill): 701.237.6161
OXBOW COUNTRY CLUB
Dancing to R&B/soul/pop group Heart & Soul. Hors d'oeuvres and champagne toast at midnight.
Reservation required: 701.588.4666
PICKLED PARROT
Ska/rock band Helena Handbasket on the main stage. Pop/rock band Low Standards upstairs at The Legacy Ballroom. Free party favors and champagne at midnight. No cover.
LEVEL TWO/ZEST (RADISSON)
Upscale meal featuring kobe bolognese, espresso-rubbed filet, gnocchi arrabbiata and more. Live music featuring local rock band S.O.L.
Reservation required (restaurant only): 701.293.7717
BASIES/RAMADA
Live jazz featuring Kathie Brekke and 42nd Street Jazz Band. Select gourmet entrees featuring veal osso bucco, surf 'n turf and grouper. Dancing and partying to Post Traumatic Funk Syndrome.
Reservation required: 701.277.9000
RICK'S BAR
Live music featuring rock band Six Gun Freedom.
ROOTERS
Karaoke and free champagne at midnight.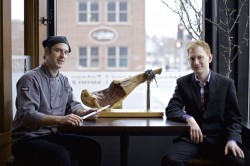 RUSTICA
"Rustica, mmm that's good," says restaurant manager Mason Nicklaus. Rustica's elaborate, yet approachable NYE menu will offer everything from Brazilian style cheese rolls to pheasant sausage and bison tenderloin to butternut squash puree. This new Moorhead restaurant has been getting rave reviews for its food and service since opening last August.
Being new and in the market for employees around the area, with all the new establishments that are popping up, it's vital to train people to your standards and your expectations and also educate them. And that's given Mason and I an opportunity, whereas we had that imparted, myself, by Eric (Watson) and, Mason, by Joe (Docimo) that we can now turn around and do that for all of the staff working under us. - Dan Dulany, head chef at Rustica.
RESERVATIONS: 218.227.5388
dinerustica.com
SEASONS AT ROSE CREEK
New Year's buffet featuring chef carved prime rib.
Reservation required: 701.235.5000
SHOTGUN SALLYS
Live music with Minneapolis-based theatrical pop music cover band Pop Rocks. Champagne ring toss. Money and prize drops at midnight.
SIDESTREET
Live music featuring blues/folk/jam group Hardwood Groove.
SONS OF NORWAY
Special menu featuring fjord salmon or prime rib 5:30 p.m. to 7:30 p.m. Dance to Brian Breitbarth Trio till midnight.
SPECKS
Live music featuring rock group Liquored Up.
SPEEDWAY EVENTS CENTER
Party hosted by West Fargo Shakers that benefits Creative Care for Reaching Independence (CCRI). Live music featuring Billy D and The Crystals. Food, drinks and free champagne at midnight.
For advance tickets: wfshakers@gmail.com
TGI FRIDAYS
"Back to the 80s" New Years Party. King and Queen of the '80s will be named. Champagne at midnight.
USHERS
"Casual fine dining" and special New Year's Eve prime rib dinner.Reservation required: 218.287.0080
VFW DOWNTOWN
Live music featuring rock band C.O.D. Champagne toast and party favors to boot.
VFW WEST FARGO
"Wine and dine dance" with music by country rockers BoomTown. Turkey and roast beef dinner with soup, mashed potatoes, salad, cheesecakes and more.
WINDBREAK SALOON
Live music featuring perhaps F-M's most popular pop/rock cover band, Tripwire.