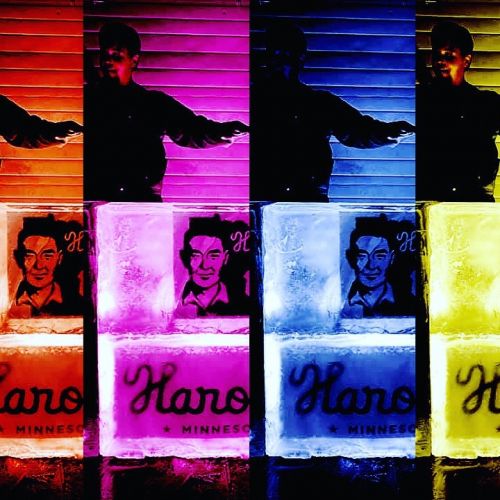 Even though it didn't officially open until February 1st of last year, Moorhead bar Harold's on Main had been under discussion for several years beforehand by its owners. Longtime friends and musicians Eric Odness, Rob Pope, Frank Bevan, Sean Tillman, Preston Olson, and Tom Kemmer wanted to provide a new addition to make up for the dearth of bars in Moorhead compared to its neighbor Fargo.
Though some, like Moorhead native Odness who now lives in Brooklyn, were separated by distance from their old stomping grounds, their bonds of friendship and passion for a good bar were not abated. The team converted what used to be First Avenue Auto into a brand new drinking establishment with an old-timey aesthetic and the appearance of a mid-century modern cocktail lounge.
Their business venture is still going strong and in no time at all Harold's will be celebrating its first anniversary on the same weekend of Fargo-Moorhead's Frostival. "It just happened to coincide," said Kemmer, who as well as being one of the owners of the bar owns his own construction business in Fargo called Kemmco. Naturally, he lent his skills in that department to much of the woodwork in Harold's. After consulting with Sharon Lawson from the Moorhead Business Association, Kemmer and crew were able to tie in their bar's momentous first anniversary with Frostival.
"It's a win-win," said Kemmer. Not only is an opportunity for old friends separated by distance to reunite for a weekend of good drinks and fun to celebrate this milestone achievement, but it's also a great opportunity for them to advertise their business to the Fargo-Moorhead community at large. Future patrons who may have been unfamiliar with the establishment before will have a great opportunity to enjoy themselves both in and outdoors on January 31st and February 1st.
Kemmer advises those interested in attending to follow Harold's on Main on social media as not all of the schedule has yet been set in stone as of the writing of this article, but he was able to relate a number of things to look forward to that weekend. David Belling, affectionately known by many in Fargo as "Chainsaw Dave", will be providing an ice bar and live ice sculpting during the event. If you're thinking that it's already cold enough outside without even more ice, never fear: there will be fire pits and propane heaters throughout the parking lot for those enjoying activities outdoors. Triple X Hatchet and Axe Throwing will be on deck for people who, as you might have guessed from the name, want to throw axes (responsibly). For those too young to drink, the Healing Arts Revolution will be hosting tents that have fun kids' activities like making crafts, ice cream, and percussion music. Dusty from the Cropdusters will be DJing during the event. There are also plans to have karaoke and even more games indoors, though those under 21 will not be able to be there later than 10 PM.
Make sure to bundle up to enjoy the outdoor activities and then hang up your coat and have even more fun indoors and warm your spirits with spirits the last weekend of January. Just remember that if you do, do so responsibly, and don't forget to tip your servers.
IF YOU GO:
Frostival Winter Mixer at Harold's
Friday, January 31, 4:00pm Harold's on Main, 1330 Main Ave, Moorhead