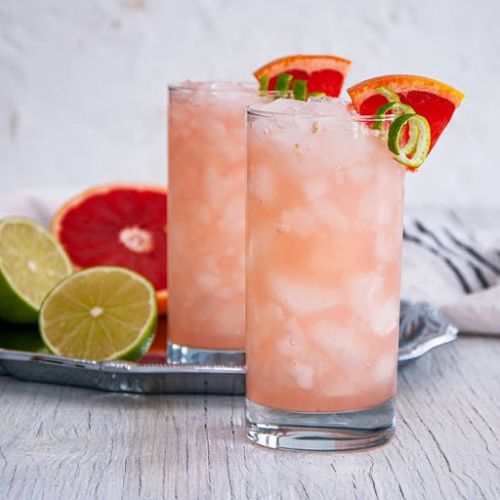 by Ben Myhre
benmyhre35@gmail.com
A Paloma Cocktail recipe is refreshing, easy, and a great way to celebrate one of the best citrus fruits available. Move over margaritas, because this simple tequila recipe can be put together in just minutes and will knock your socks off with its beautiful flavor.
Paloma Cocktail Recipe Summary
There really isn't much to this drink. We mix up grapefruit juice, a little lime, some sweetener, optionally top it off with a bit of soda water and there you have it. This is a close cousin to a Greyhound that is just as good, if not better. I guess what I am trying to say is that I really like grapefruit and booze. If we are kindred spirits and you have the ingredients on hand, this can be yours to make.
What Kind of Tequila Should I Use?
Whatever you have! That being said, some tequilas are more appropriate and I would look to a young Blanco tequila to do the job for this drink. The good news is that there are some great Blanco tequilas available at great prices. We tend to keep a bottle of Espelon on hand for tequila drinks and if you are building a home bar, consider them as your staple Blanco tequila.
What Kind of Grapefruit Should I Use?
Generally, Pink or Ruby Red are great bets for this Paloma cocktail recipe, but really any kind of grapefruit works well. There are several varieties that can vary in tartness. Because we add sweetener to this cocktail, we will tend to neutralize any pucker from the fruit. Use what you can find, but sweet grapefruits work well in cocktails.
Making Your Own Simple SyrupMaking simple syrup is really as easy as adding equal parts heated water and white sugar and mix until sugar is dissolved into the drink. Put it into a sealable container and keep it in the fridge. At your local liquor store, you would probably be able to find simple syrup on the shelves, but this is one of those things you can make at home and is really easy.
Topping With Soda Water is Optional
The origin of this drink is with grapefruit soda or probably more likely Squirt. A simple Squirt and tequila recipe might fall under the umbrella of Paloma cocktails and, not gonna lie, would probably taste great. We, however, are making ours with fresh grapefruit and while I don't feel this needs soda water, nor do I use it in mine, you can top off my recipe with it.
The Paloma Cocktail is a tasty treat to be enjoyed at any time of the year, but is especially tasty when Grapefruit is in season. So, now. Get out your tequila, grab a grapefruit, and bring your tastebuds along for this delicious adult beverage.
Ingredients:
2 Ounces Blanco Tequila
4 Ounces fresh Grapefruit Juice
1.5 Ounces fresh Lime Juice
1 Ounce Simple Syrup
Grapefruit or lime peel for garnish (optional)
Soda Water, to top (optional)
Instructions:
Add all ingredients (minus garnish) to an ice filled shaker.
Mix with mixing spoon for 15 seconds.
Strain into ice-filled highball glass
If needed, top off with soda water.
Garnish with Grapefruit or lime peel.
[Editor's note: Ben is the mind and the tastebuds behind https://ramshacklepantry.com/]