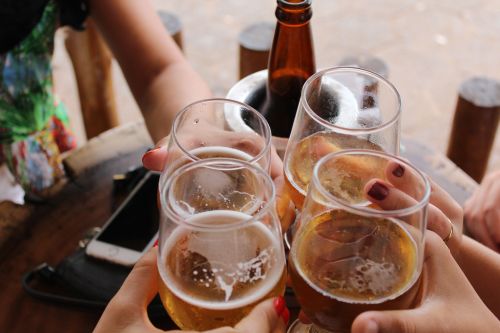 By Gabrielle Hersch
gabbyhersch@gmail.com
Think & Drink is coming to Fargo! Organized by Humanities North Dakota, Think & Drink is a happy hour series that hosts a facilitated public conversation about big issues and ideas. Lead by a subject matter expert, the event inspires debate, conversation, active listening, and philosophical discussion that opens minds and deepens understanding – all in the midst of locally brewed beer and snacks.
The next Think & Drink event in Fargo will focus on an important and provocative issue: domestic violence. Lead by NDSU History and Social Science professor, Dr. Ashley Baggett, the conversation will place domestic violence into its historical and social context within the legal system. Baggett's expertise in women's history, gender studies, and history and social science make her an ideal discussion leader.
"Domestic violence is a pressing problem that we continue to struggle with globally as well as locally. My hope is to facilitate productive conversations about solutions for domestic violence that will continue well after the event," said Dr. Baggett.
Considering the multifaceted dimensions that complicate the issue of domestic violence such as economic, human rights, crime, the discussion is sure to create an engaging and thought-provoking dialogue. And this thought-provoking, eye-opening sort of public conversation is truly the vision behind Think & Drink.
With Think & Drink events taking place in local bars spanning Bismarck, Minot, Grand Forks, and Fargo, Humanities North Dakota is doing its part to get the public involved in critical thinking and debate about important issues. These are necessary conversations which, in many contexts, are avoided.
"Silence surrounding uncomfortable or charged topics can actually hinder solutions or perpetuate misunderstandings, which makes conversations on issues such as these important to have. Informed discussions help not only to raise awareness but also to create positive change," Dr. Baggett said.
Humanities North Dakota believes in the event as an opportunity for the public to come together with a variety of perspectives. The goal is to not to create a consensus on the topic at hand but to offer a chance for these various viewpoints to interact in a comfortable, friendly, guided, and fun environment.
"The Humanities North Dakota Think & Drink events are great opportunities for people with different perspectives to come together," said Dr. Baggett, and "we benefit from actively listening to each other and understanding what affects our community."
The next Think & Drink event, titled, "Disconnect: What Do We Do About Domestic Violence?" Takes place on Sunday, March 3rd from 1:30-4:00 p.m. at Front Street Taproom in Downtown Fargo. The program begins at 2:00 p.m. and is a 21+ event. Tickets are $15 and include one drink and snacks. Tickets can be purchased at www.eventbrite.com/e/fargo-thinkdrink.
For more information, visit www.humanitiesnd.org/thinkdrink.
IF YOU GO:
Think & Drink, Disconnect: What do we do about domestic violence?
Sunday, March 3, 1:30-4 p.m.
Front Street Taproom, 614 Main Ave, Fargo